For as frustrated and dejected as I felt after completing the huckleberry dish, yesterday afternoon when I finished this one I felt like a bit of a rock star.  This thing is hands-down the weirdest thing I've made yet. The main body of the dish, served inside a glass egg coddler, is a cake made from pureed Matsutake mushrooms. I had no idea what "matsutake" was when I first skimmed the book (or mastic, for that matter), so I had to do some googling to learn myself some things.  I'm also a bit mush-tarded; I rarely crave or eat mushrooms, so my understanding of flavor nuances between the varieties is infantile. I do know that the few times I've eaten shiitake mushrooms I've gotten quite sick, so I (and my friends, awesomely) tend to keep a sharp eye out for these so I can avoid them. Other than that, my experience with mushrooms goes only as far as brown button mushrooms sauteed with butter, which is what my mom used to do when she made steaks when we were kids, or frozen breaded mushrooms, which Kris and Joe and I made a meal of one night in New Zealand, mostly for our amusement.
Excitingly, I stumbled across matsutakes at the SF farmer's market a few weeks back; at $10 for a 1/4-lb punnet, Sarah was immediately nervous for me to make this. The place I spotted them, Far West Funghi, is beautiful but dreadfully overpriced, and because I heart Berkeley Bowl I figured I'd wait to see when they came out there and how much they were.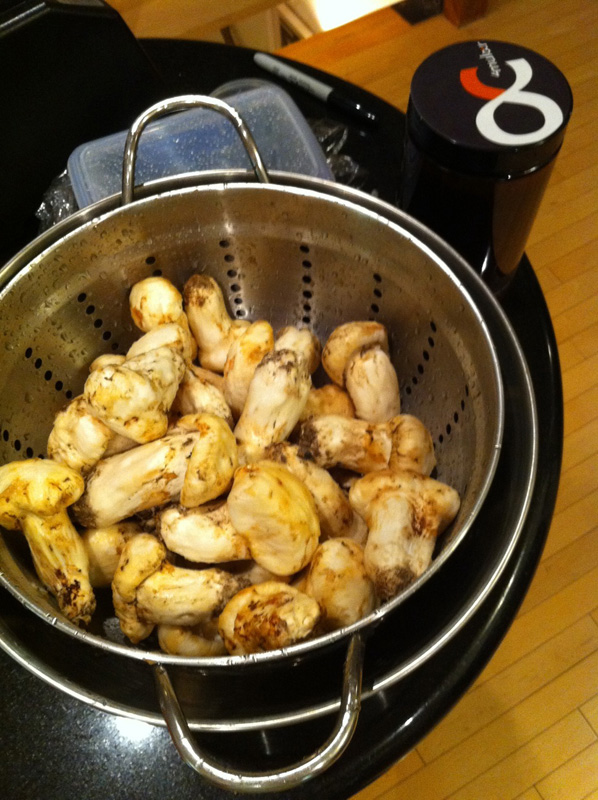 As it turns out, Thursday night I found heaps of them when I went to visit, and they were on sale! Instead of $40/lb, they were $6/lb, and looked perfectly delicious. This marks the first time I've ever come across something used in this cookbook that's been a bargain.
Atop the mushroom cake is a dollop of matsutake caramel. The cake was an odd enough idea, but mushroom caramel? Yeah, that's weird as hell. Both of these use a base of pureed matsutake, so my first order of business was cooking the mushrooms so I could puree them. This is done by a little sous vide action.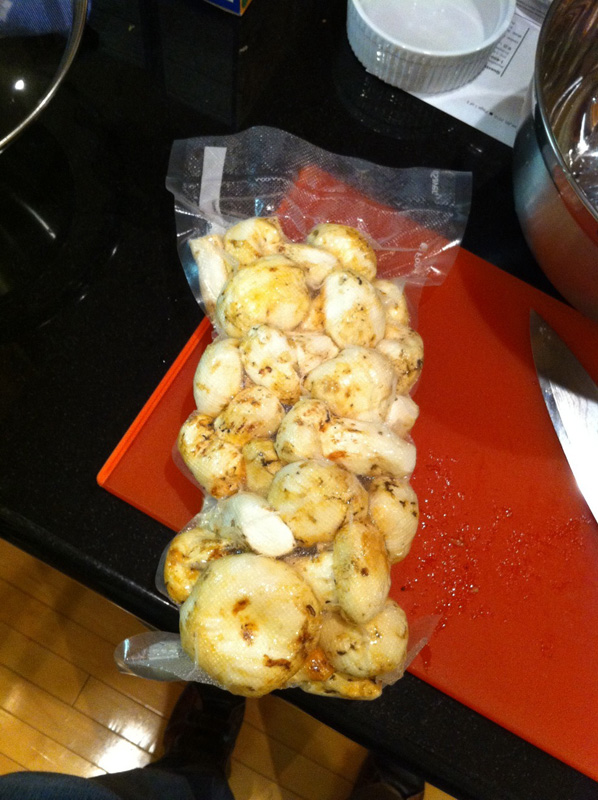 After cooking for a while, the mushrooms are tender enough to be pureed in a blender. When I pulled them out of the bag, I got a faceful of what apparently makes these mushrooms so special; they smelled spicy, almost like horseradish. I was immediately nervous; Sarah hates horseradish. The matsutakes are also very 'meaty' and solid. It took a bit for my Blendtec to muscle through them, but in the end I had a perfectly smooth paste that I could pass through my tamis (which was the first time I'd gotten to use this fun toy).
The cake is topped with small cubes of rosemary and sherry vinegar gel. Making these is where I spent the bulk of my time, given that I really wanted to understand the hydrocolloid used, which in this case was low-acyl Gellan. Low-acyl gellan forms a gel that's thermally irreversible. After having completed this, I understand why this is important. After the cake is cooked, it's stored until service time, at which point it's ostensibly room temperature. Cubes of the gel, along with the matsutake caramel (which also incorporates low-acyl gellan) are placed atop the cake, which is then sealed in its coddler and re-heated so that it's warm when it's presented. Being able to heat the gel cubes up without them melting is probably why gellan was chosen.
I also noted in my previous Hydrocoloid post a lack of understanding of the term 'brittle' when used to describe gels. No more!  My rosemary gel turned out fairly elastic, but my vinegar gel was extremely, extremely brittle. If your gel can do this, it's brittle:

Trying to eat this was, for me, gross. It was like a very, very stale gummi bear I imagine; it was almost 'crunchy', didn't dissolve in the mouth at all; it was a bit like chewing rubber. The recipe for the vinegar gel uses identical percentages of gellan to weight as that of rosemary, so I was intrigued. Reading about gellan in the Khymos Textures handbook, it mentions that low-acyl gellan has an affinity for acid; acids help it form a stronger gel. This seems like it could suggest why I was seeing this. So I tried remaking the gel (6 times in all), each time eeking down the ratio of gellan to weight. The original recipe calls for a 0.7% concentration of gellan. What I ended up with was using 0.17%, which resulted in a gel that was of similar strength and consistency as the rosemary. During my testing, I wondered if the brittleness was needed to offset any effects that heating the gel might have, so I tried heating up a bit of the rosemary and vinegar gels in an egg coddler. The rosemary gel became so weak that it easily collapsed when I touched it with a spoon, and the vinegar gel hardly changed at all. So, in the end, I think the extreme acidity of the viengar I was using warranted cutting down on the amount of gellan, and I remade the rosemary gel with 0.9% percent gellan to firm it up a bit. I was extremely happy with the resulting consistency of both gels, and the fact that I kinda knew what I was doing made me way happy.
After the cake is warmed, it's presented tableside, at which point the coddler is opened and chilled mastic cream is poured into it. Mastic is another ingredient I had no idea about. Wikipedia told me that it's a resin taken from the Mastic tree, which was only marginally helpful to know. It apparently can sometimes be found in health food stores as "Arabic Gum" (which is not to be confused with "Gum Arabic"…wtf people). Searching around a bit, I found a website that went straight to the source: a company based in greece that sells mastic powder directly. Yeah. How cool is that? When I got my shipment of powdered mastic, the lovely Grecians had included some small candies as well, which was a fun way to introduce myself to what mastic tastes like. It's kinda piney and nutty, definitely not like anything else I've ever tasted. It tastes like what I'd imagine chewing a mouthful of pine needles would taste like; a very autumnal flavor. It reminded me of my uncle's evergreen farm in Kentucky.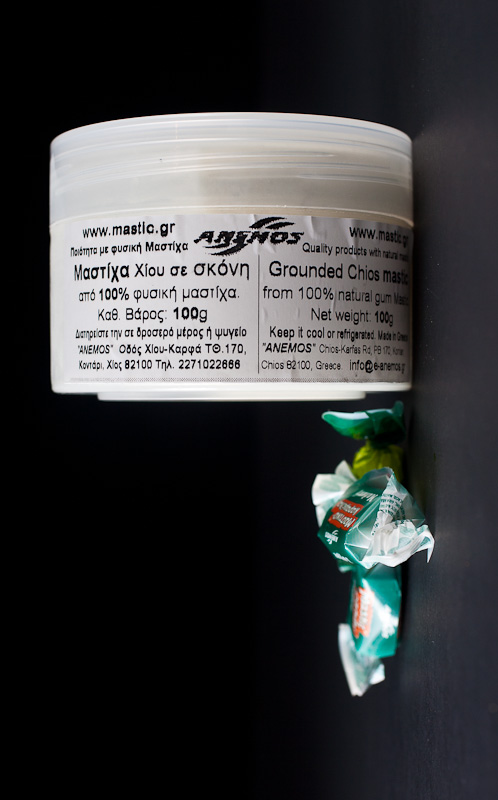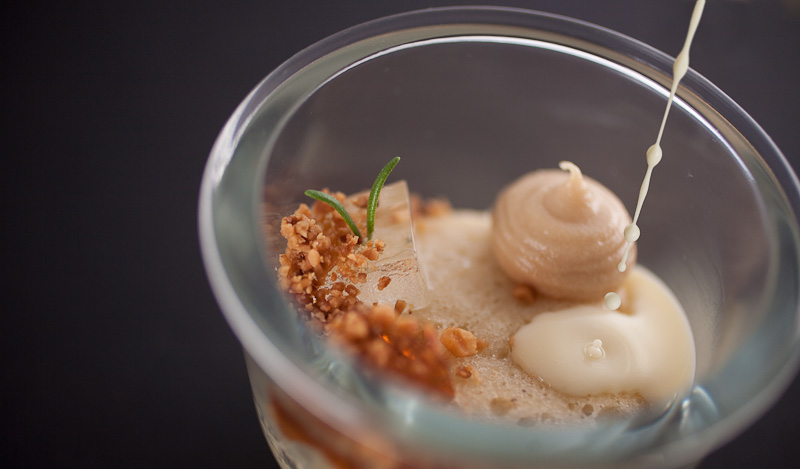 I made up two of these in some coddlers I bought online, and assembled them for Sarah and myself to try. It was, just as I imagined, decidedly odd. The cake is sweet, as is the matsutake caramel, but it's unmistakably 'mushroomy'. My brain wasn't quite sure what to make of these two flavors, because they're so unexpected to find together. The gel cubes, when heated, soften to the point of being able to be sliced through easily, so I could kinda pick around and control distribution of flavors. The rosemary gel really shined, it tasted way more aromatic when I ate it in this context than when I had it by itself. I really loved the bite of the sherry vinegar too, though Sarah absolutely objected to it. And the mastic cream, which tasted very nice on its own, I felt got a little lost in the mix for me. I suppose everything worked together, insofar as nothing tasted BAD to me, but it was just such an unusual combination that I didn't quite know what to make of it.
All told, it took about a week of playing with the various elements here for me to pull it together yesterday. And a lot of making and putting away piles like this.
The recipe also makes a TON of everything. I thirded the gel cube recipes and still easily have enough to share with heaps of people. At Weta, I felt really lucky that almost everyone I worked with was my friend, and so each time I made a dish, I would write about it and share photos of it on some of the list groups they have there.  It was fun, and most everyone was quite supportive and as excitable as me when I would make something new. A few times I brought things in to share; this was hella cool and I liked that it got everyone in on the fun. At Pixar I'm still pretty new, and don't know a ton of people, so sharing writings and photos of this project feels odd and a little lonely there to me.  The amount of surplus for this recipe affords me what I hope will be a fun opportunity: I made a few dozen Matsutake cupcakes that I'm gonna take into work on Monday to share. Let's see how that goes!