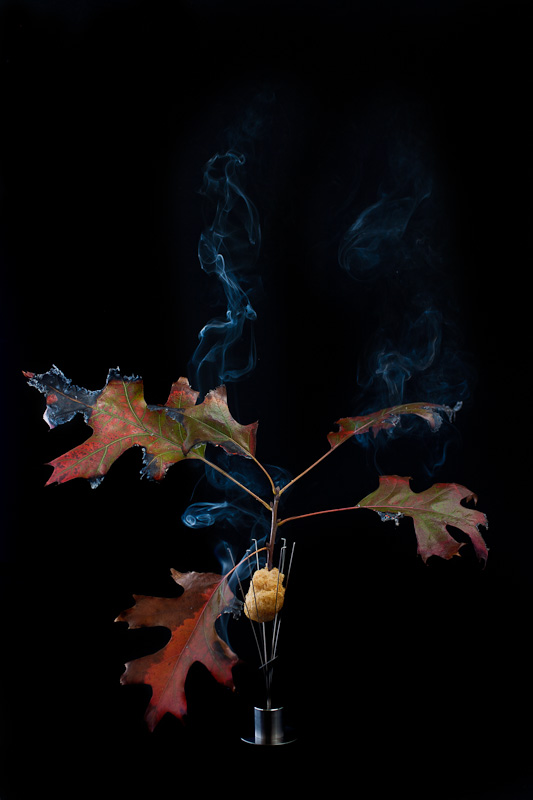 This has been a pretty exciting weekend for me. I haven't had an autumn in about 5 years; Wellington's autumn lasts about 3 hours one afternoon in March or April, usually while I'm in a meeting, and then it's straight into 6 months of Southerlies and sideways rain. I'd forgotten about so many of the cool things that come with America's autumn; crisp chilly clear days, orange pumpkins instead of green ones, and leaves changing colors.  The first time I lived in San Francisco I was horrified at how autumn here isn't as colorful as it is in KY, but this time around even the few trees that do turn colors make me feel giddy.
The farm I grew up on has a huge wooded area behind our house; I grew up learning to whistle into acorn shells and cutting down dead oak trees in winter for our firewood. In the fall when I was in school, my friend Jeff and I would hike down to the creek behind our house, pretending to be explorers. I can still remember the sound of the crunching leaves under our boots. And dad would rake our yard a few times and burn a big pile of leaves; I think pretty much everyone in the midwest has this nostalgia. Clearly Chef Achatz does as well; the heartstrings he's pulling on in this dish are incredibly familiar ones. I totally dig it.
The idea here is that a small cube of pheasant is topped with a cube of gelled cider, then a cube of roasted shallot, then the whole assembly is speared on a sharpened oak branch. Dip the food into tempura batter, deep fry it until golden brown, then light the leaves aflame with a torch and quickly extinguish them. The diner is served the dish while the food is still hot and the leaves are still smoldering. It's autumn in a bite.
Like most other things I've made from the book since being back in the bay area, finding a pheasant was easy. Whole Foods has them in their freezer section. They're expensive ($26 a pop), and small (maybe only slightly bigger than a cornish hen). I hadn't had pheasant before, so I was curious how it different from chicken or turkey.
What was much more difficult to find, infuriatingly, was an oak tree.  For the past month I've tried to keep my eyes out for oak trees up and down the streets I've driven.  I mean, I live in OAKLAND. LAND OF OAKS. But I kept coming up empty. There are heaps of maple trees around, and their leaves are beautiful, but are much bigger than oak leaves so I worried they would be top-heavy when used in this dish.
I finally asked at work, and predictably got several incredulously-toned emails back about being nuts, that oaks were everywhere.  One person, though, helpfully suggested that I might not be recognizing California oaks, which have leaves similar to that of a holly tree and which don't turn colors in the fall. Sure enough, he was right; most of the oaks in Oakland are of this variety.  White or red oaks like those in the midwest are much tougher to come by.
I DID find, at Berkeley Bowl, in the floral department, some bouquets of oak leaves for $5 a pop. They were pretty and just the right size, but buying oak leaves just struck me as completely heretical. My parents would make fun of me to no end if I told them I dropped $5 on some dead leaves that grow by the millions in our backyard. Plus, I liked the hunt. After driving around yesterday for about an hour and a half through some neighborhoods and parks in Oakland I hadn't visited, I finally (FINALLY) found a single oak tree. I pulled over and sized it up; there were maybe three branches that still had leaves that were within grabbing distance, so I snagged them and hoped for the best when I got home.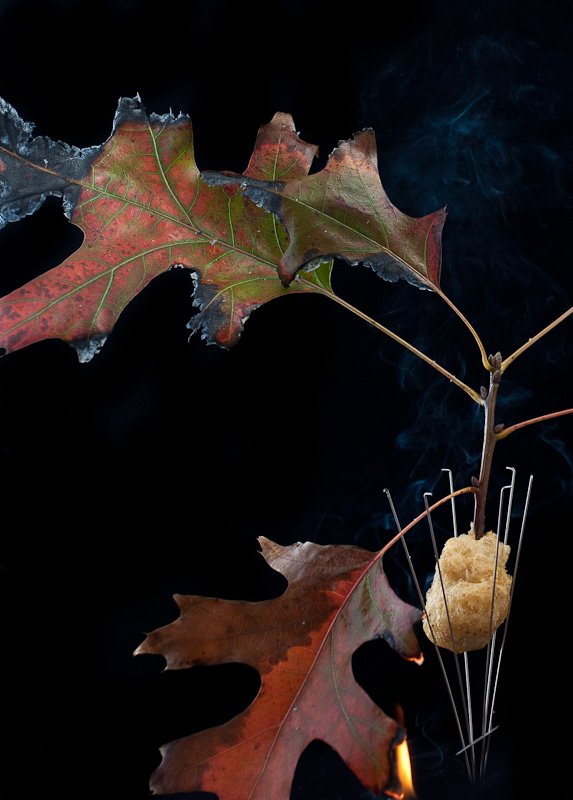 Turns out they worked beautifully. I made a few servings for Sarah and myself to try the whole experience out. The burning leaves in our kitchen took us immediately back to childhoods in KY; they smelled amazing. Sarah tasted her pheasant first, chewed it around a little, and declared that it tasted like a fancy chicken mcNugget. I laughed and tried mine next, and she was pretty much right. Delicate as the tempura casing was, it's tough to make fried stuff taste like anything but 'fried'. The pheasant had been cooked sous vide with butter, salt, pepper, and thyme, but I couldn't really pick up many strong flavors from it. The cider gel was delicious but most of it melted out of the fried casing, so it's flavor was much more subtle than I'd hoped. The shallot was warm and assertive and delicious, but overall I felt like the bite lacked a little complexity. When we were at Alinea earlier this year, we had a very similar dish that was made with shad roe and had mustard in it. The mustard and shallot in that one worked REALLY well, and I found myself wondering what this would have tasted like if I dipped it in mustard. Sarah wanted some bbq sauce to dip hers in. I can picture the Alinea chefs rolling their eyes at this.
I had to buy a whole pheasant to get the one breast needed for this recipe, so I decided to take the rest of it and make one of our favorite recipes ever: Pyrenees Chicken with Paprika, Tomato, and Capsicums, from the Movida cookbook (only I swapped out chicken for pheasant). Movida is a spanish tapas place in Sydney that's pretty amazing. We found the cookbook in Moore Wilson's one day and snagged it immediately, and this was the first recipe we tried from it. It's amazing, though not for the faint of heart. From start to finish it takes maybe 5 hours of active cooking, so it's a great thing to try on a sunday afternoon while puttering around the house. Swapping the chicken for pheasant didn't make a huge difference, though I noticed that pheasant is slightly gamier and much leaner. And it seems like there are more, um, skinny weird bones in it.
Because it's so amazing, I'm gonna share it with you here:
INGREDIENTS:
1 chicken (3.5lb or so) cut into 12 pieces (like most meats, having some fat in the chicken will make things more delicious. Organic chickens sometimes turn out drier for me)
2 tbsp thyme leaves, roughly chopped
fine sea salt
3/4 cup olive oil
2 brown onions, finely diced (if you're in America, get medium-sized onions. If in the antipodes, 'regular' ones)
4 bay leaves
4 garlic cloves, finely chopped
4 red capsicums (bell peppers), seeded, membrane removed, finely diced
6 tomatos, peeled and chopped (I use plum tomatos for this and find it works best. Too big of tomatos and your sauce is too liquidy)
2 cups dry white wine or fino sherry
3 tbsp sweet paprika (though I like using smoked paprika, because smoked things are clearly awesome)
METHOD:
In a large bowl, season the chicken pieces with the thyme, a few good pinches of salt, and 1/2 tsp freshly ground black pepper. Cover and refrigerate until ready to use.
To make the Chilidron sauce, heat 1/4 cup oil over medium-high heat in a heavy based saucepan. Saute the onion, bay leaves and garlic for about 5 minutes until the onion is soft. Reduce the heat to low-medium.
Add the capsicum, cover and cook for 40 minutes, stirring occasionally, until the capsicum is soft. Add the tomato, stir, cover and cook for 30 minutes, stirring occasionally.
Add the white wine and continue to cook for 10 minutes. Add about 4 cups hot water and increase the heat to high. Once the water is boiling, reduce the heat to low, add the paprika, and continue cooking the sauce gently for a further 30 minutes. The mixture should still be quite liquid at this stage.
Meanwhile, preheat the oven to 200C/400F.
Heat the remaining olive oil in a large heavy-based frying pan over high heat and add 6 pieces of chicken. After 30 seconds, reduce the heat to medium. Season the chicken with a pinch of salt. After 4 minutes turn the chicken over and season the other side. Cook for a further 4 minutes until lightly browned. Remove the chicken from the pan and set aside. Repeat with the remaining chicken pieces.
Once all the chicken has been browned, put it in a large roasting tin, leaving a little space between each piece. Cover the chicken with enough Chilindron sauce to come up to just the top of the chicken.
Genlty cook in the over for 1-1.5 hours. As it is cooking the sauce will evaporate, creating a dark crusty top on the chicken. The chicken is ready when the thigh flesh comes away easily from the bone. Serve immediately.