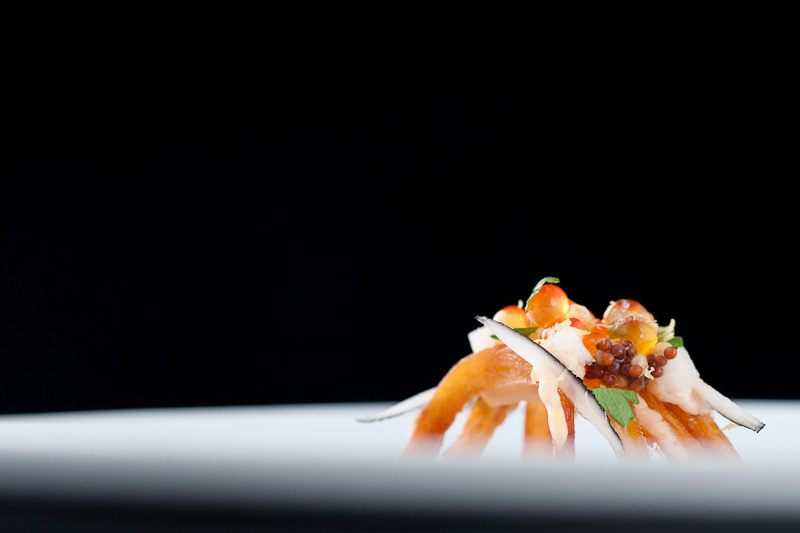 "So what are you doing now, just coming home every day and thinking 'Let's see…do I want to watch "It's Always Sunny In Philadelphia", or cook an entire Alinea dish tonight?'" Francisco was laughing at my bandaged fingers while we waited in line for burgers from the FiveTen burger truck behind work. I'd been telling him about Sarah arriving home a few nights ago to find me drunk and clutching an ice bag (we'd run out of Advil, so I'd anesthetized myself with several gulps of  Noah's Mill bourbon). When she looked at me quizzically and asked what was going on, I smiled and said "Imma make n'Linea dish fer yoo", hoping she wouldn't notice the slight slurring.
"No, it's just that I've got this drawer full of fish roes I'm trying to put to use before they go off." I told him, secretly thinking 'but cooking this stuff every night would be pretty fun.' Sarah's work is demanding a ton of overtime from her at the moment, so most of my nights are my own. I'm usually caught between wanting to play in the kitchen and not wanting her to come home to a mess du jour. Life's all about balance, see.
In this week's case though, the balance has fallen to lots of kitchen time as I've been pushing forward on multiple recipes at once. In between prepping stuff for the Croquette dish I've been preparing the components for this dish (which are all very stable and can be held for a few days if need be).
These components included making some parsley root puree from carrot-shaped parsley roots, cream, and what turns out to be a hell of a lot of salt. Making this is pretty straightforward; cook the roots in cream until tender, then blend the roots and just enough of the parsley-root-flavored cream to form a puree. The salt called for in the recipe is a very hefty amount, and once again I forget to taste BEFORE adding it. What I end up with tastes like creamy parsley sea water when it's warm. I almost, almost threw it out and started over, but then noticed the recipe instructs me to chill it. Chilling dulls flavor, so I was curious if that held true with super-salty stuff. Turns out it mostly does; the puree when nicely chilled tastes like deep creamy parsley…it tastes somehow warm even when being so cold, and the saltiness is much more palatable.
I also made 'parsley sauce', which involves blanching a bowl full of parsley leaves, blending them with ice water, and thickening with Ultra Tex 3 to a saucelike consistency when chilled. The result is a squeeze-bottle full of vivid emerald green sauce that tastes, as Sarah posited, like fresh grass.
Another component was mustard seed that had been braised in pickling liquid; they ended up sort of sweet and tangy and popped tenderly like little bubbles after they'd soaked up all the cooking liquid. Very neato and yummy.
Also included is smoked salmon 'puree', which is delicious but one of those 'not exactly for the faint of heart'-type things. It's made by pureeing smoked salmon with ice water and olive oil until you get a sort of slightly-gelatinous pudding, then passing as much of this as possible through a tamis to extract only the smoothest parts of it. This goes into a squeeze bottle into the fridge. I guess squirtable fish might be a little weird to some; it tasted pretty delicious though, and I was already able to start picturing how it'd work with the parsley root and smoked steelhead roe.
The main component here is the salsify itself. I'd never seen a salsify before, nor was I very familiar with them. I found a bag of them at Berkeley Bowl, and the sign near them said they were from Belgium. When I got them home I rinsed them and scrubbed them until they looked like this: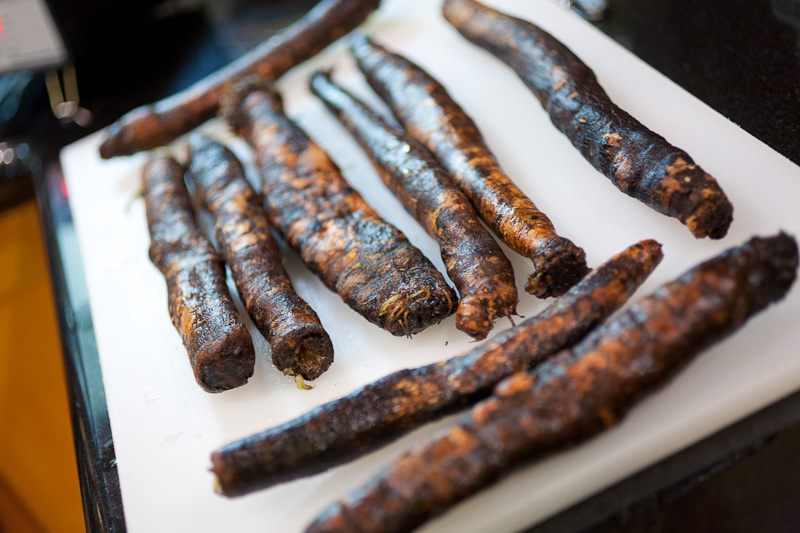 They're firm but bendy; sort of like slightly-old carrots. The interior of them is also notably less solid and more radially-fiberous than the outer edge; they seemed almost semi-hollow. I peeled them and trimmed the ends, then loaded them into a vacuum bag with butter, salt, a bit of water, thyme, and garlic. Then I cooked them sous vide for 2 hours at around 83C.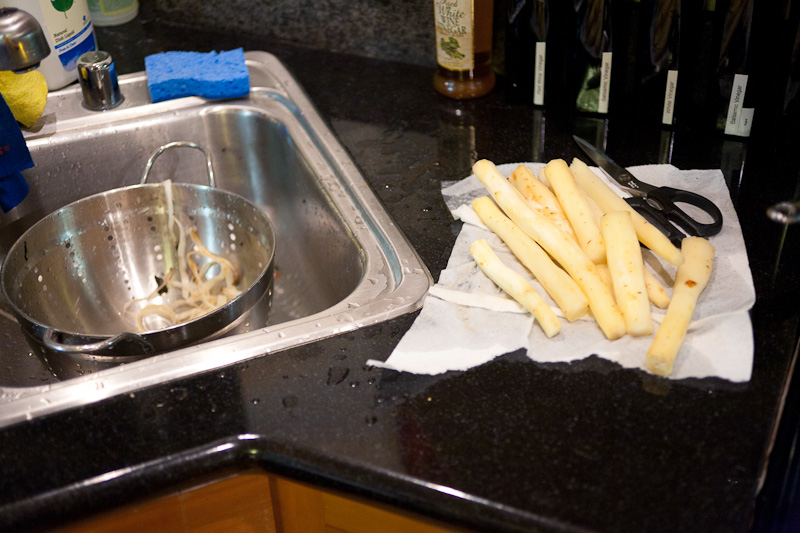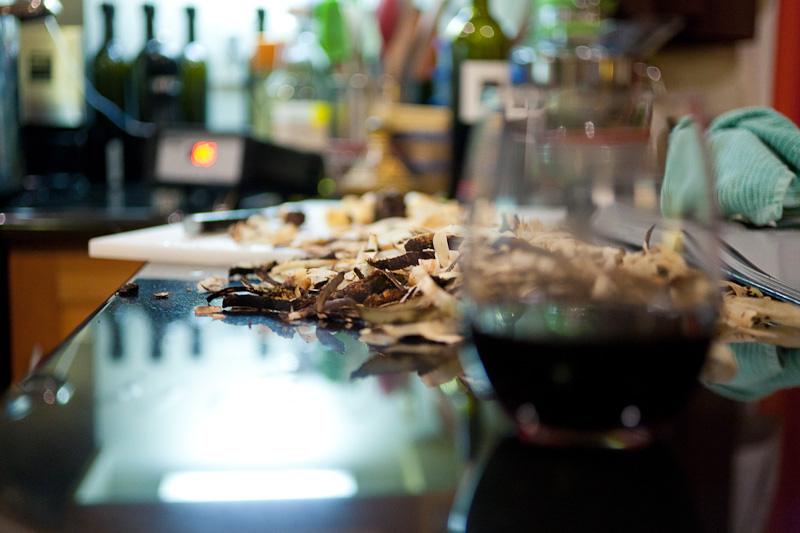 I noticed the salsifies were oddly 'sticky' after being peeled; apparently their extract is sometimes used to make chewing gum. The recipe directs me to chill the salsifies in ice water after cooking them, then slit them along the side and 'unroll' [sic] them. Because it was pretty late at night by the time they'd finished, I chilled them in ice water and then left them in the fridge in the vac bag. The next day I went to work, figuring I could just do the 'unrolling' when I got home.
The 'unrolling' bit, though, was a complete pain in the ass. Imagine someone telling you to slit the length of a carrot and 'unroll' it. No, what I was doing was 'coring' these things, which was a huge pain. In retrospect, I'm curious if this would have gone more smoothly if I'd done it immediately after they finished cooking. The stickiness in them (which was still apparent even after cooking) makes me think the extended time in the fridge may have caused the once-kinda-hollow interior to fuse together. I'd like to try working with them again to see about this.
At any rate, a fair bit of cajoling later and I had some unrolled, flat rectangles of salsify. I cut some slices in each end, then moved on to heating some oil to fry them.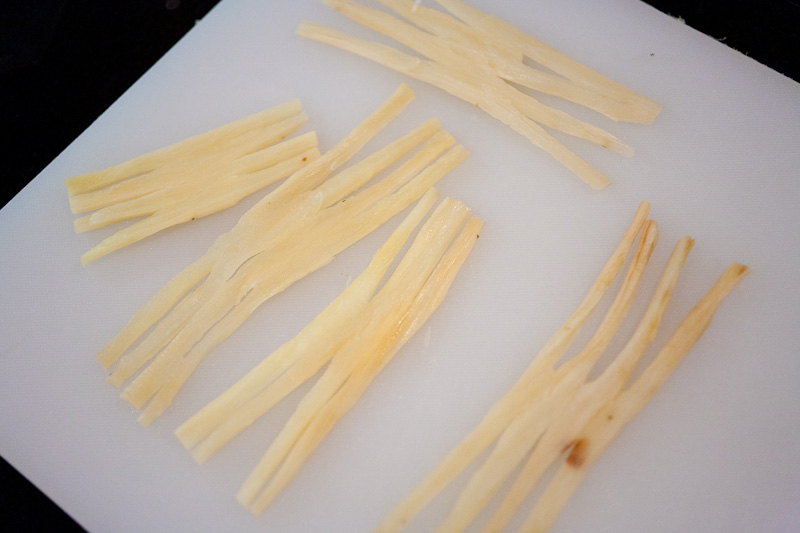 After frying them until they turned a nice golden brown, I pulled them out and laid them over a rolling pin to help shape them into little arches. Then I poked the legs into holes in a wire rack to help them keep their shape until they cooled.
To plate, I piped the smoked salmon along the top and down the legs of the salsify arches, then garnished with slices and dice cubes of black radish, the braised mustard seed, parsley leaf tips, smoked steelhead roe, and lemon zest. I placed a spoonful of the parsley root puree on a plate, along with several pools and dots of the parsley sauce, then set the salsify into it.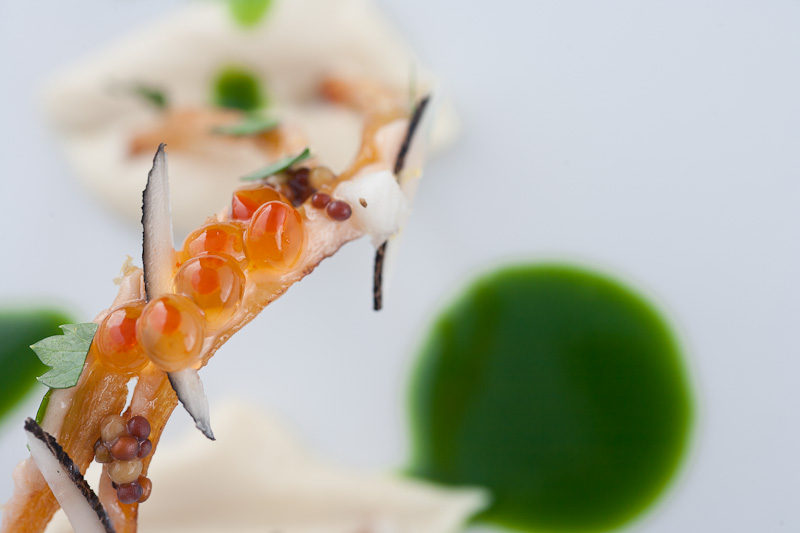 Sarah and I both quite liked the taste of this one. The salsify was enigmatically 'meaty'; it was more complex in texture than just a crispy chip or onion ring. It tasted complex as well, like more than just butter, garlic and thyme. Wikipedia says salsifies are sometime called "oyster root" because they apparently have an oysterlike flavor. I didn't quite get that out of it, but there was a je ne sais quoi that neither one of us could quite put our finger on. The salsify with the parsley root and sauce flavors felt very comforting and wintery, the root flavors being obvious and tasty. The smoked salmon and roe accents reenforced this, offering a smoky warm note to everything. It's kinda neat because none of this was actually served warm, but it tasted warm.
Sarah questioned the root puree being so cold, and I agreed that the temperatures were a little weird. The book didn't say what temperature to serve the root puree at, but any warmer than fully-chilled would have made it overpoweringly salty, so I'm not quite sure what to make of that.
Making these last few dishes has felt a little rushed, which I always hate, but I managed to make reasonably good use of the BLiS roes, and still anticipate trying to cure some of my own; if that happens I might revisit these, if for no other reason than because they all just taste so damn good.