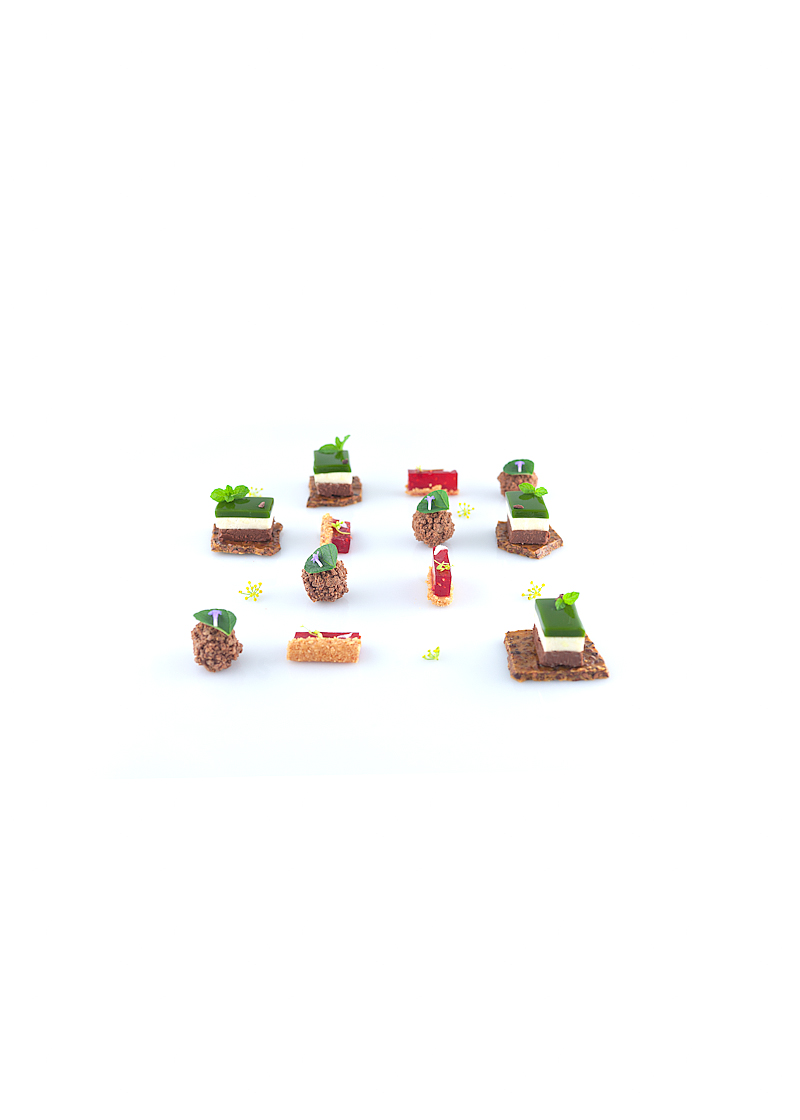 Mignardises (literally, "sweets") are small, final bites served at the end of a meal that are meant to serve as one last token of gratitude/farewell from the Chef; they are tiny sweet morsels that signify the end of the evening.
The staff of Alinea is doing something rather remarkable this upcoming week; they've packed up all their gear and have traveled to New York City, to temporarily set up shop in an equally-inspiring restaurant: Eleven Madison Park. This adventure lasts for just a week, at which point the staff will return…and bring the staff of EMP with them to do the inverse at Alinea in Chicago. Kinda neat.
This weekend also marks the start of Autumn, so I figured it fitting to cap the end of my Summer cooking adventures with some mignardises from the Summer menu of Eleven Madison Park's cookbook.  These small sweets aren't terribly less-involved than any Alinea recipe, though they can be approached with a bit more of a relaxed attitude, as each component is fairly stable and can stand to be refrigerated overnight (or several nights). Work's been pretty full-on again for me lately, so I've chipped away at this one over the course of a week.
Of the three bites I chose, two comprise PB & J: a peanut-butter truffle encased in crispy feuilletine accompanies a small raspberry pâte de fruit dipped in liquid shortbread glaze and crumbs of candied peanuts. The third is a multilayered presentation of mint and chocolate, set atop a crispy rock of cocoa nib brittle.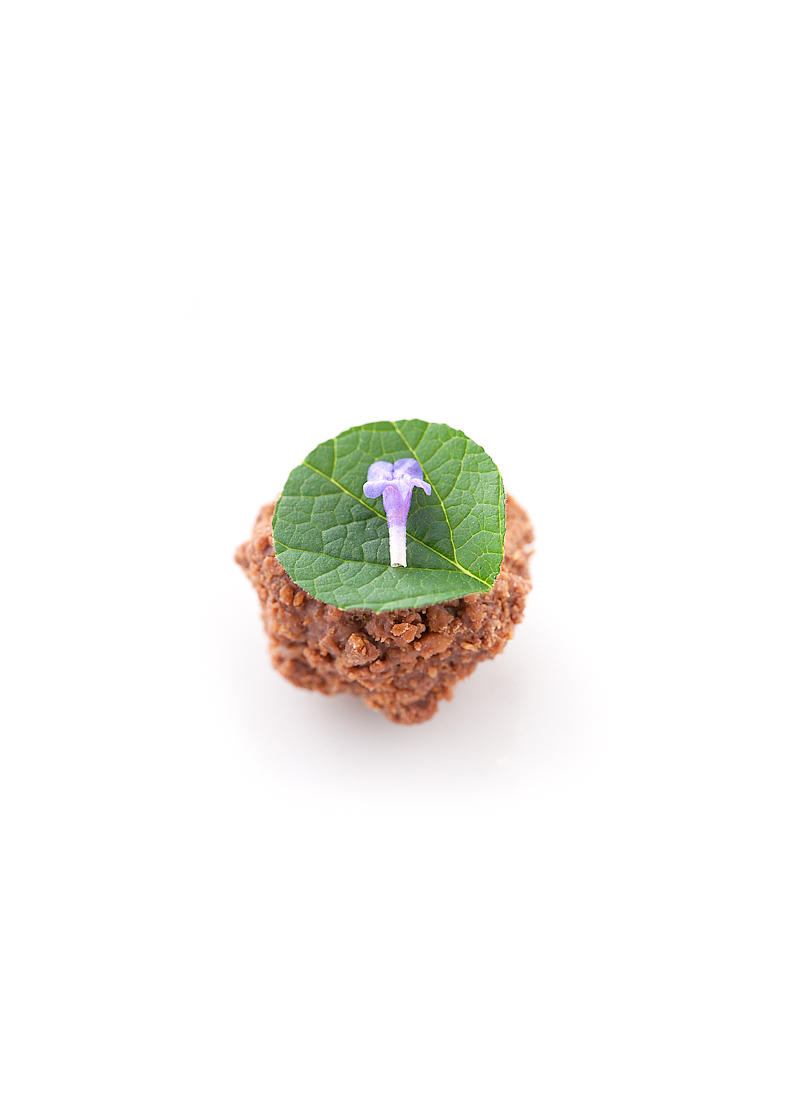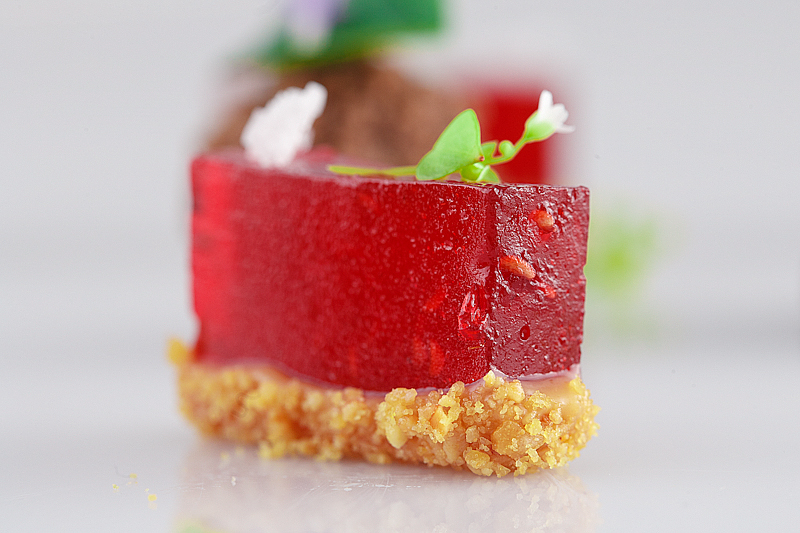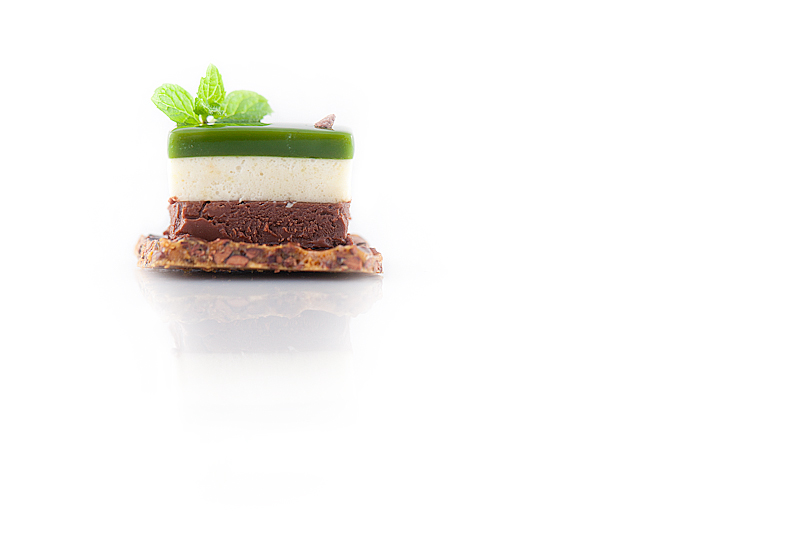 I started with the crumbled peanut brittle powder that garnishes the Jelly bite; I caramelized some sugar and glucose, then threw in some salt, baking soda, and fresh roasted peanuts before pouring the mixture onto a silpat to let cool. The baking soda step causes the mixture to foam a bit, which lends itself to a lighter, airier texture than straight caramelized sugar would. Once cool, this mixture is processed in a food processor to a fine crumbly texture that tastes like sweet peanuts.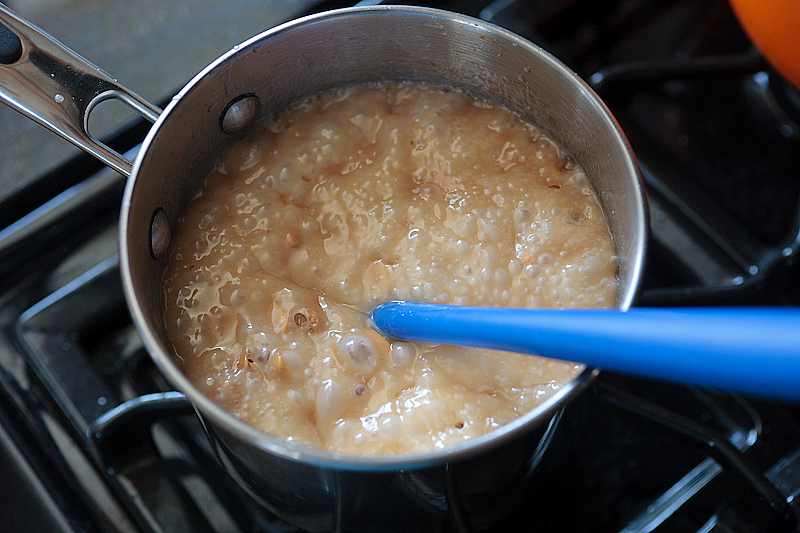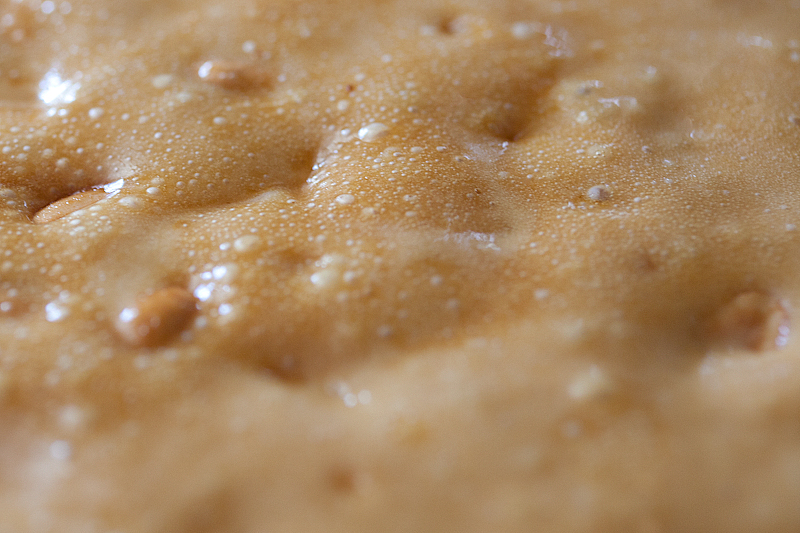 I next made "Chocolate feuilletine". Feuilletine are very light, crispy chips that taste like sweet sugarcone (like you'd get with ice cream). I read somewhere that they're the flaky, over-crisp bits of crepes, but have found little hard elaboration on exactly how they're made commercially. They're hard to find casually; I ordered a large tub from L'Epicerie nearly a year or so ago that I'm still going through. The stuff lasts forever and is totally delicious. I like sprinkling it over ice cream to add light crispness to it; it sees use in pastry cooking in lots of desserts like these. For this dish I melted some milk chocolate, tossed in several cups of feuilletine to barely coat with the chocolate, then froze the mixture for a few hours. I broke it into chunks and processed it to a crumbly powder again; it tastes pretty similar to the little rice-krispy-filled chocolate bars you get in those Hershey's candy packs.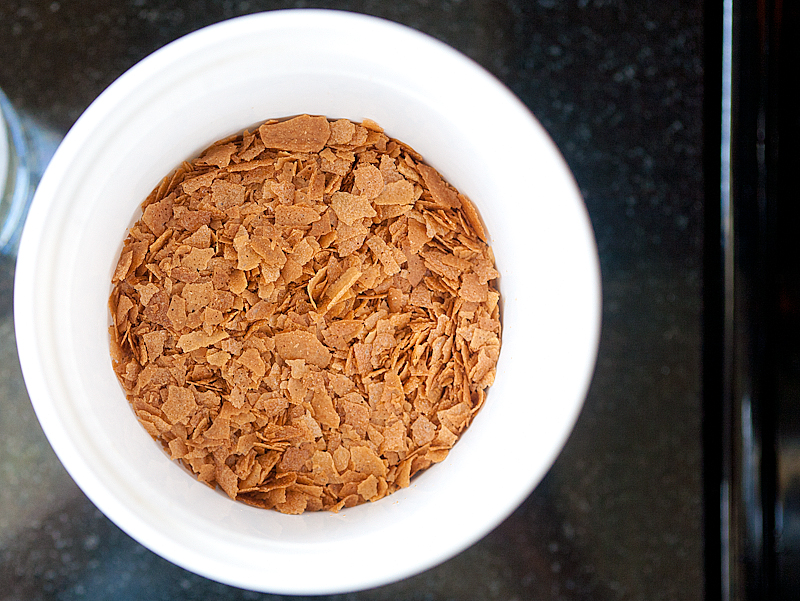 The Peanut Butter truffles contain an interior ganache made of melted chocolate, cocoa butter, and fresh roasted peanuts all pureed together and left to cool. Working with this mixture is pretty temperamental: at too-warm temperatures (like e.g. a human hand), the mixture melts, and at lower-than-room-temperature the mixture is firm enough that it's not pliable at all. I needed it to be about the consistency of clay, which took some finagling in and out of the fridge before I had it juuuuuust right. I put the mixture into a pastry bag and piped it onto a silpat into the shape of really high-end cat poops.
I then rolled the delicious cat poops into small spheres. This again was a pretty delicate procedure that involved a lot of in-out, in-out with the fridge. Once the spheres were shaped reasonably well, I chilled them for several hours, then dipped them first in melted chocolate then into the feuilletine crumble mixture. 
To make the raspberry pâte de fruit, I started with some raspberry puree. The Eleven Madison Park book recommends using frozen puree, but finding that and/or getting it overnighted seemed a silly expense for something that otherwise is pretty easy to make: I just zapped a few punnets of raspberry with an immersion blender until it was smooth, then strained out the seeds.
The puree is cooked with pectin, some sugar, whole raspberries, and some citric acid until it reaches soft-set temperatures, then poured onto a sheet tray to let cool. Then I cut it into small bite-sized bits and froze them.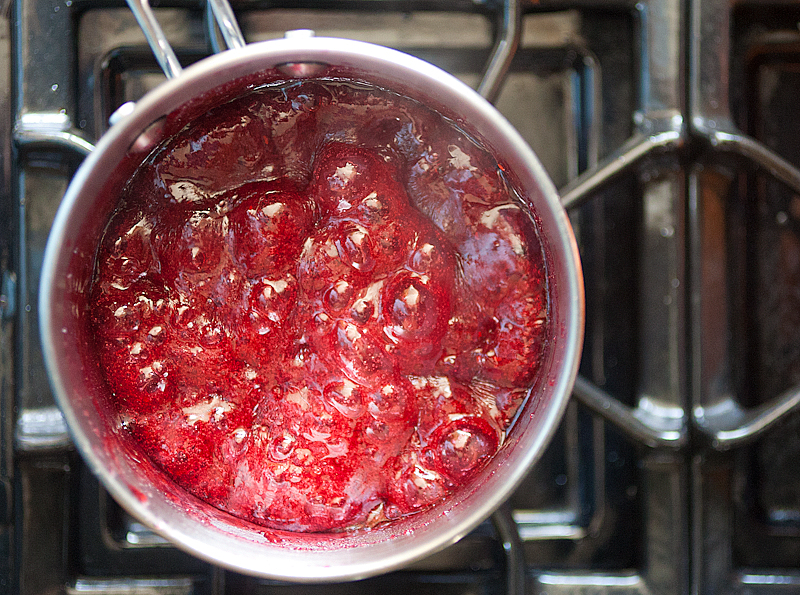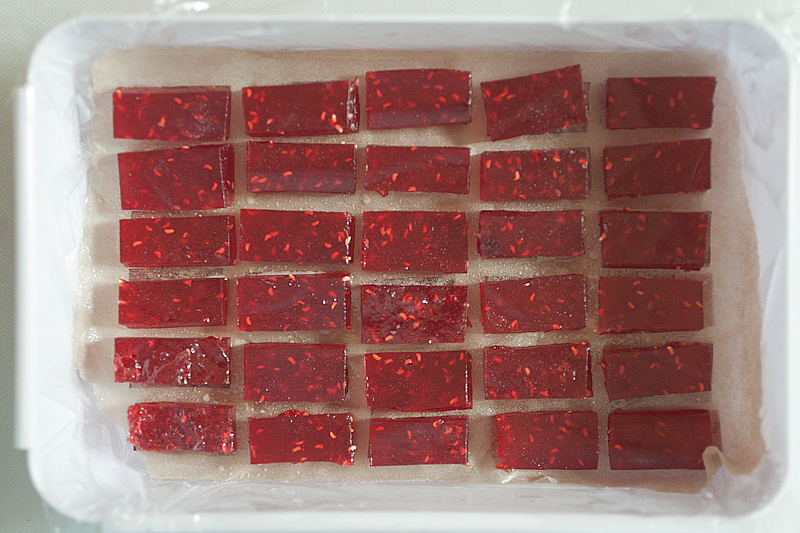 The Raspberry Jelly is dipped in a liquid shortbread glaze. This was interesting to make; basically I made a giant shortbread cookie, then blended it with a small bit of almond oil until it turned into a shiny liquid. The high butter content means that pureeing it in a blender causes it to warm and liquify. A spoonful of it tastes like a warm shortbread cookie.
To finish the Jelly mignardises, I dipped the frozen raspberry chunks into the liquid shortbread glaze, then into the peanut crumble. I chose to garnish the bit with a bit of sea salt and some sweet microgreens I've got coming up right now.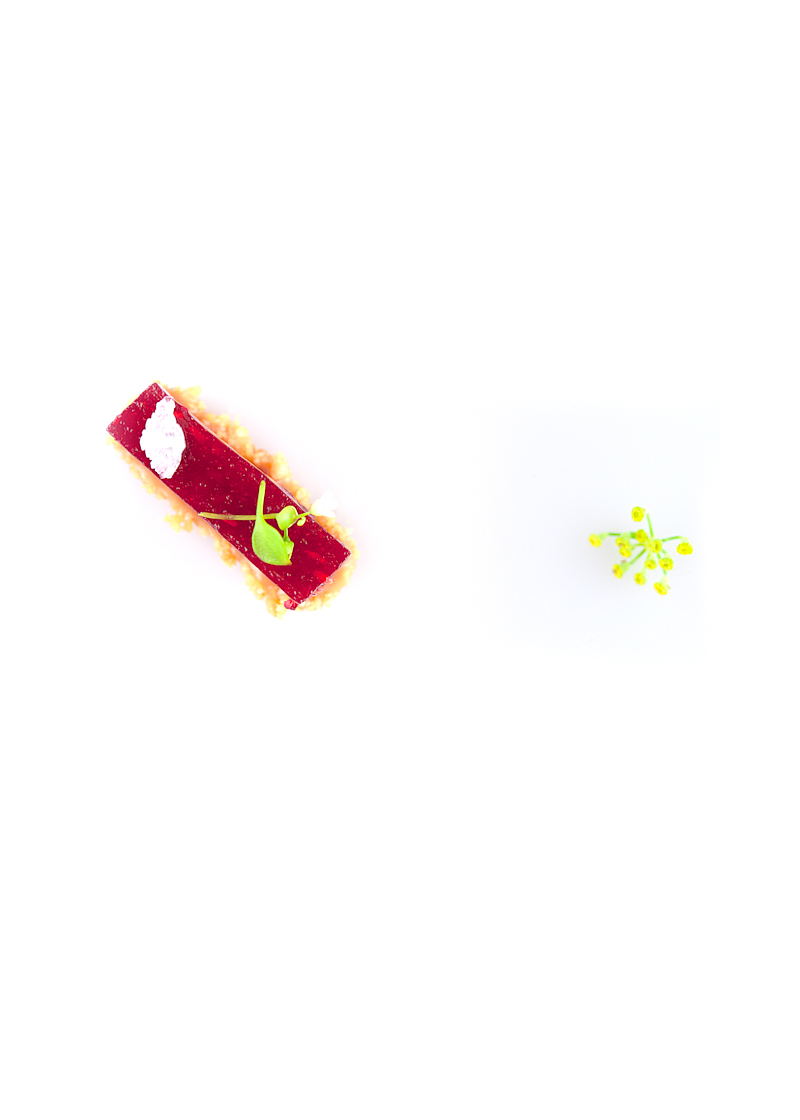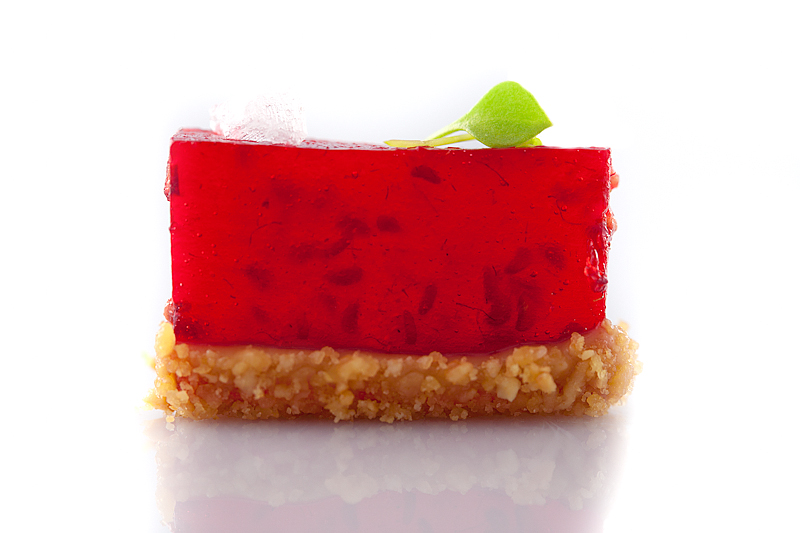 PB & J complete, I moved on to the Chocolate and Mint bite. I started by caramelizing more sugar/salt/baking soda with some cocoa nibs, which again was spread quickly onto a silpat. This stuff sets extremely quickly, so I had to work pretty fast to smooth it out before it hardened.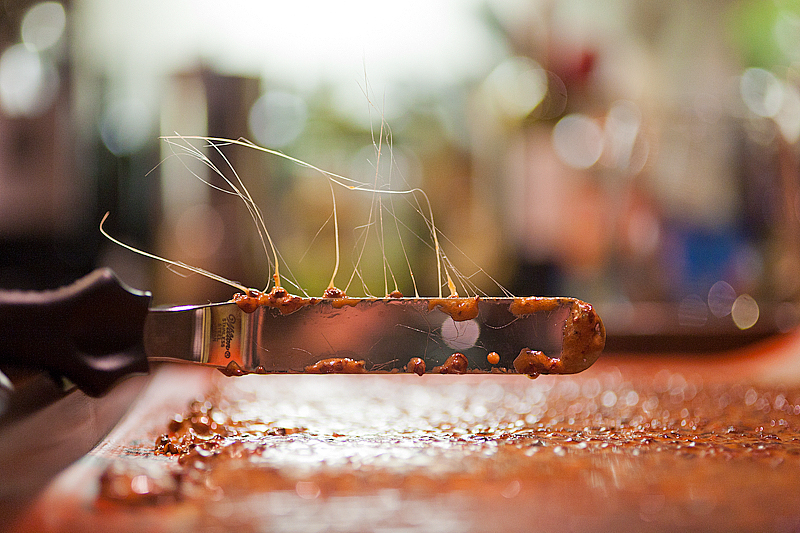 The next part was the most attention-demanding bit of this whole process, which is to say "I couldn't be completely drunk when I did this". I started by steeping some cream with fresh and dried mints, then mixed this with dark chocolate to yield a very concentrated minty chocolate ganache. This was smoothed into a casserole dish (because I don't own a 9″x13″ sheet tray yet) and left to cool for several hours in the fridge.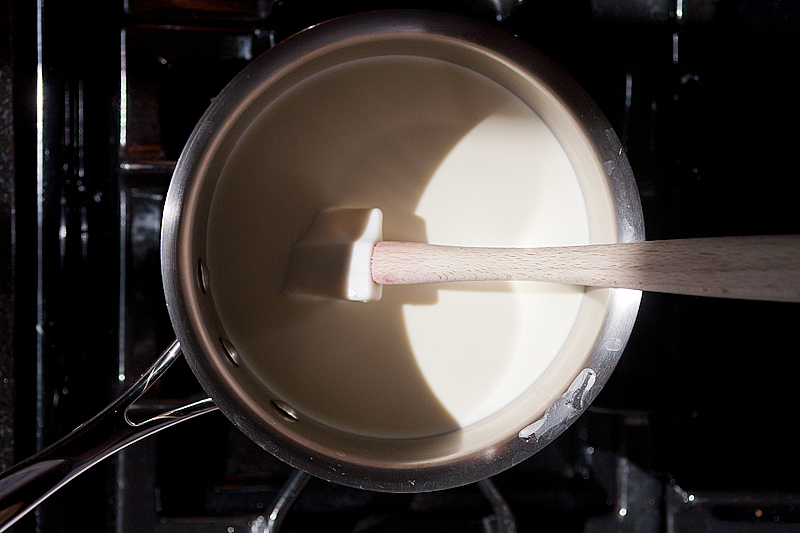 While this set, I steeped some milk with more mint, then cooked this with eggs, white chocolate and sugar before folding in some whipped cream to yield a fluffy, minty mousse. This mixture was cooled and spread over the set ganache, and again left to chill until firmed.
Finally, I blanched another large batch of mint to set its color, then pureed it in the blender with ice and sugar before straining it. The ice trick is meant to keep the mint cool during the high-speed blending; heat would cook the mint easily and cause it to turn brown, and we want to hang onto this awesome color. This mint puree is mixed with gelatin and carefully poured onto the mousse layer, and again chilled until set.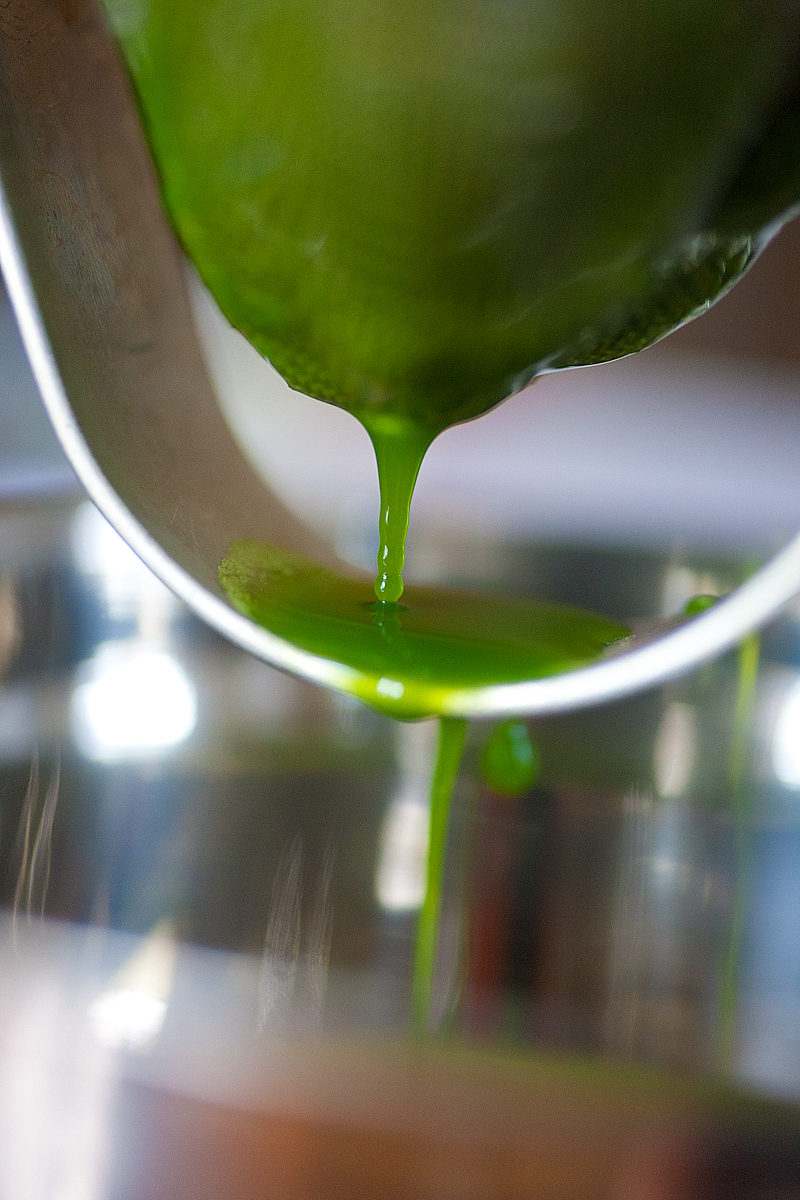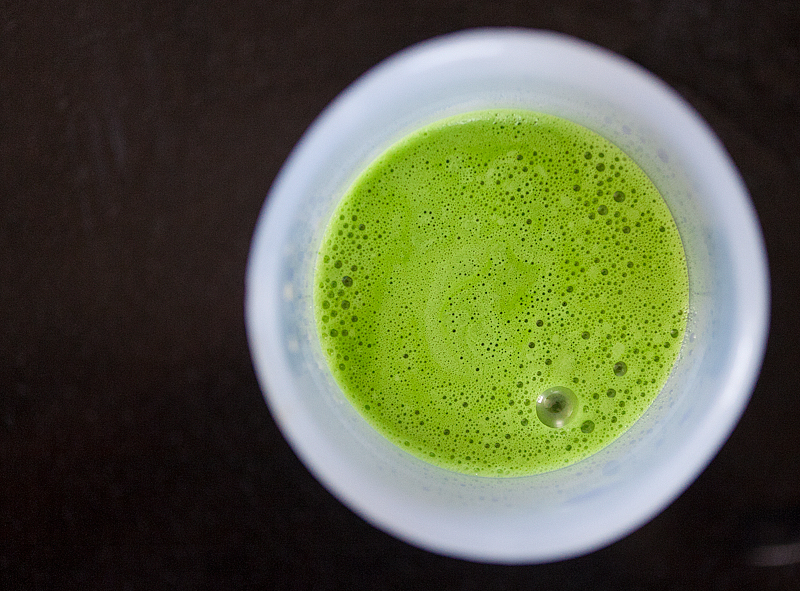 Finally, the minty chocolaty layers are sliced carefully into small bites and placed atop broken shards of the cocoa nib brittle, then garnished with fresh mint leaves and cocoa nibs.
With that, I'll say thanks to everyone for the encouragement and enthusiasm through yet another summer season. I've made it down to a single summer dish remaining, which I'm saving to do next year. For now, I'm switching over to Autumn and focusing efforts on hunting down gooseberries, venison, geoduck, wagyu, and a few other surprises.