Hey. Hey guys. Guys, check it out:
I'm droppin' beets.
Hey where are you all going?
Ok, sorry, for real this time. I'm 7 dishes away from finishing this project, and this one stars some interesting stuff. It takes a week start to finish, in large part because it involves making Corned Bison. I've never to my knowledge tried corned beef, because I didn't understand what it was and pictured beef mixed with corn…which is a little gross. Back off, this is an honest mistake; what if someone tried to sell you on a broccoli'd ham sandwich? THAT'S WHAT I THOUGHT.
It turns out that "corning" just refers to the salt used in curing beef…apparently salt looked like corn in olden times or something. But it actually has nothing to do with corn, I was delighted to learn; corning meat basically just means curing it in a brine, perhaps including some spices along the way.
My first step was procuring some Bison, also sometimes referred to (erroneously) as Buffalo. When I last used Bison, I found it in the SF Ferry Building but had very limited choice over cuts or types of meat. This time I wanted to try going straight to the source, so I searched for Bison farms and started calling them to see if they'd be willing to sell me specific cuts to order. Turns out most were happy to, given enough lead time. For the Corned Bison, I needed Bison Leg, also called "shank", which is often pre-portioned into osso bucco.
So I ordered some Bison Osso Bucco from Wild Idea Bison farm, and it showed up beautifully-packaged on the Friday prior to me starting this process.
The first thing I needed to do was clean the meat from the bone and trim it of external silverskin and fat. The meat was put into a brine of salt, cinnamon, bay and vanilla, and left to cure for the week.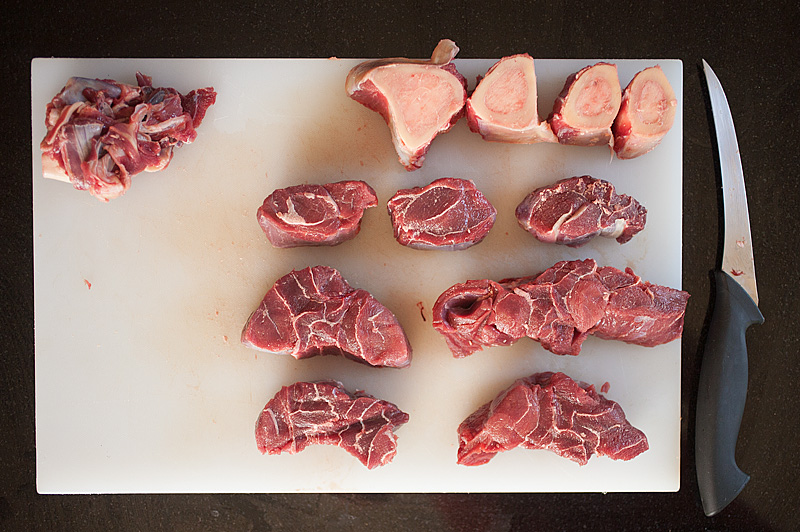 The dish also calls for veal stock; last time I made veal stock I made a shit ton of it, and also totally glossed over writing about the process. I love making stock, so I figured I'd go ahead and make a fresh batch for this dish.
The first batch of stock I made, having never tasted veal stock before, was oddly 'spicy' and dark. It has a taste that can quickly be overpowering. Given that I made it over a year ago and have kept it in our freezer for storage, I figured maybe I'd try learning some more about this process to see if this second batch turned out any differently.
The first step is to blanch 5 lbs of veal bones in some hot water. I kept the marrow bones from the bison shanks to throw in here as well. The Alinea recipe calls for calves' feet, but I can't get butchers around here to sell these to me at all; most ask why I even want them, and one told me that there's a California law that forbids slaughterhouses to sell veal feet to butchers. They offered to sell me COW'S feet, but I had to special order them. On reading about how integral this is, it seems like the feet just offer more collagen, leading to more gelatin. I figured I'd compensate with an extra pound of bones and just see how it turned out.
After blanching the bones, I return them to a big stockpot and fill it to 6″ over the bones, then bring the water to a simmer. We never, ever want to hit full boil, which clouds the stock and releases a lot of impurities (as I learned from my first time doing this). So, I kept a probe thermometer in my stock the entire time I was working with it, and kept it at about 90C for the duration of simmering. Fat and impurities start rising to the surface almost immediately, and then starts the skimming.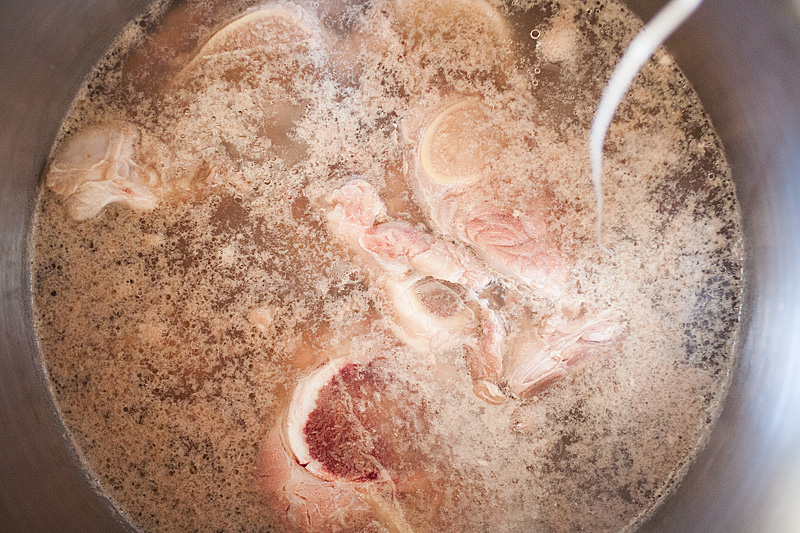 Now, this is significant enough for me to feel compelled to mention: I had an assumption about what "skimming" was in my head that turns out to be faulty; I was using a wire mesh strainer to 'skim' my stock last time. It sorta-kinda works, but left a lot of impurities in the stock that I think might have contributed to its odd flavor, and of course does little to get rid of fat. I was cautious about skimming away the liquid itself, hence choosing a wire skimmer. I recently got turned onto ChefSteps, which is 110% awesome. The real magic of this site is in the videos; they're very illustrative, but I find myself noting a lot of subtleties that never get explained in cookbooks…things like the chefs' use of narrow whisks to help them get into the corners of a pan or how they choose to use thermometers. There's a ton of handy little tidbits they probably don't even intend to be so helpful but that can't be learned any other way outside of working in a kitchen with chefs. Anyway, I was watching this video a couple weeks ago and was struck at the small moment where the chef skims his stock…using a ladle. He pulls almost all the impurities out with one graceful motion, but also pulls out a fair bit of the liquid. This way of skimming is quite different than what I had done my first time, so I thought I'd try it for this batch. Turns out this way is far superior.
After things get simmering, I add some aromatics to the stock, as well as some tomato paste, the acid in which helps coagulate proteins, making them easier to skim away.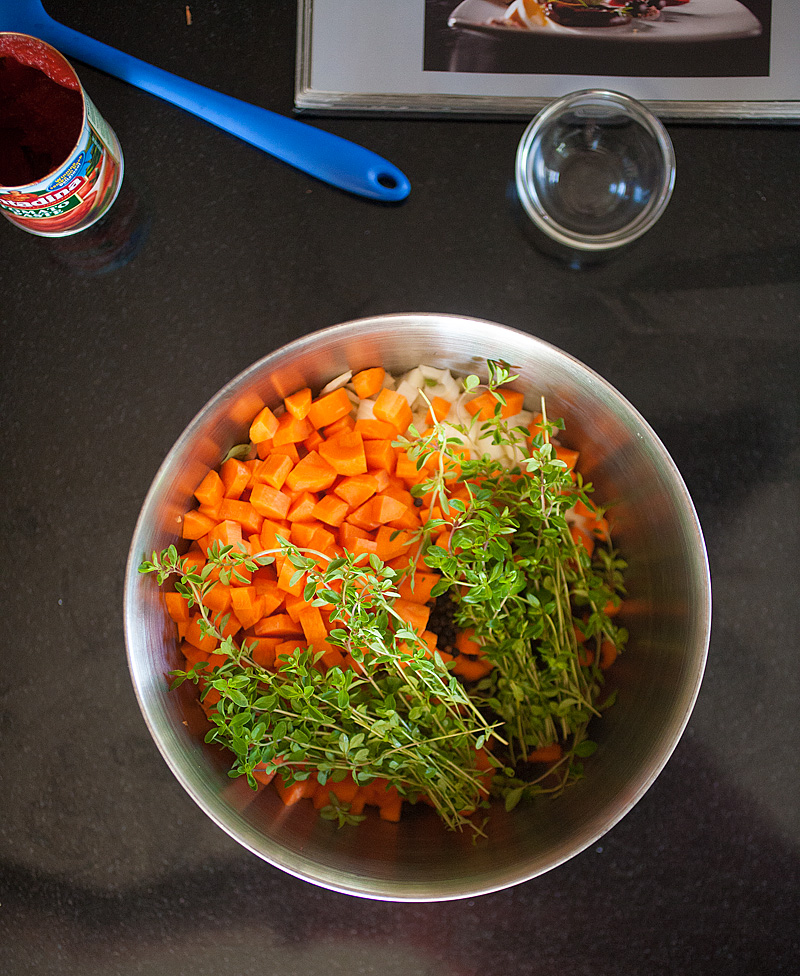 The stock simmers for 8 hours, the bones are removed and the liquid reserved, then the bones are simmered for another 8 hours in new water. This probably makes it obvious that making a big batch of veal stock is a full 2-day affair, albeit a wonderful relaxing one, sort of like smoking pork butt or something. I hang out in the apartment cleaning, doing paperwork, overchecking email, cat-napping, returning to the stock every 20-30 minutes or so to trim the temperature and skim, skim, skim. There are probably people for whom this sounds like the worst thing ever, but I totally love it.
The two batches are ultimately combined, then reduced down to about 1000g of demi glace. This batch turned out notably different than my first; it's much milder and more subtle, and has none of the spicy, offputting flavors of my first batch. The taste is lovely and beefy, and there's more than enough gelatin the offer thick mouthfeel.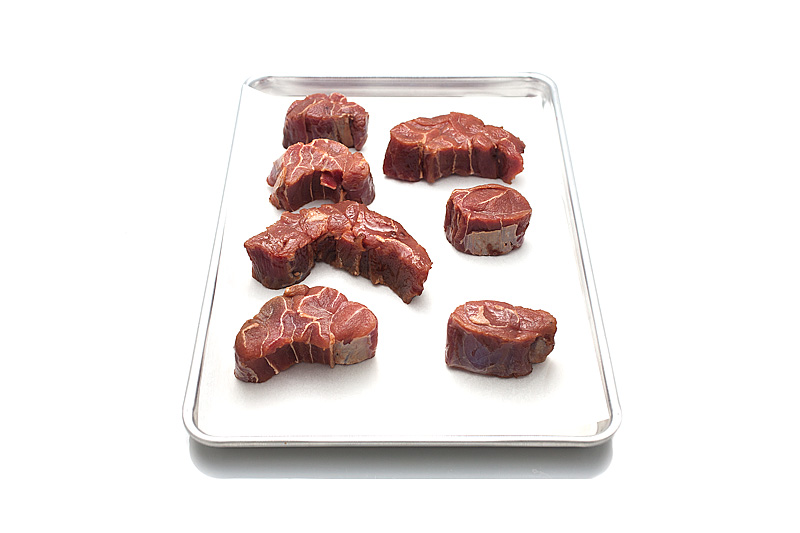 After 6 days in the corning brine I removed my Bison shanks, rinsed and dried them, and cooked them for 4 hours or so in oil until they were tender and most of the tough collagen in the meat had gelatinized. The meat was cut into small dice, then cooked into a ragout with fennel, cream, a bit of vinegar and salt. It tasted delicious as hell. Corned Beef Achievement: unlocked.
The other hero ingredient here is beets; there are a shitload of beets in this dish. First, I cooked the small beets pictured above in butter and vinegar, then peeled them and stored them in their cooking liquids.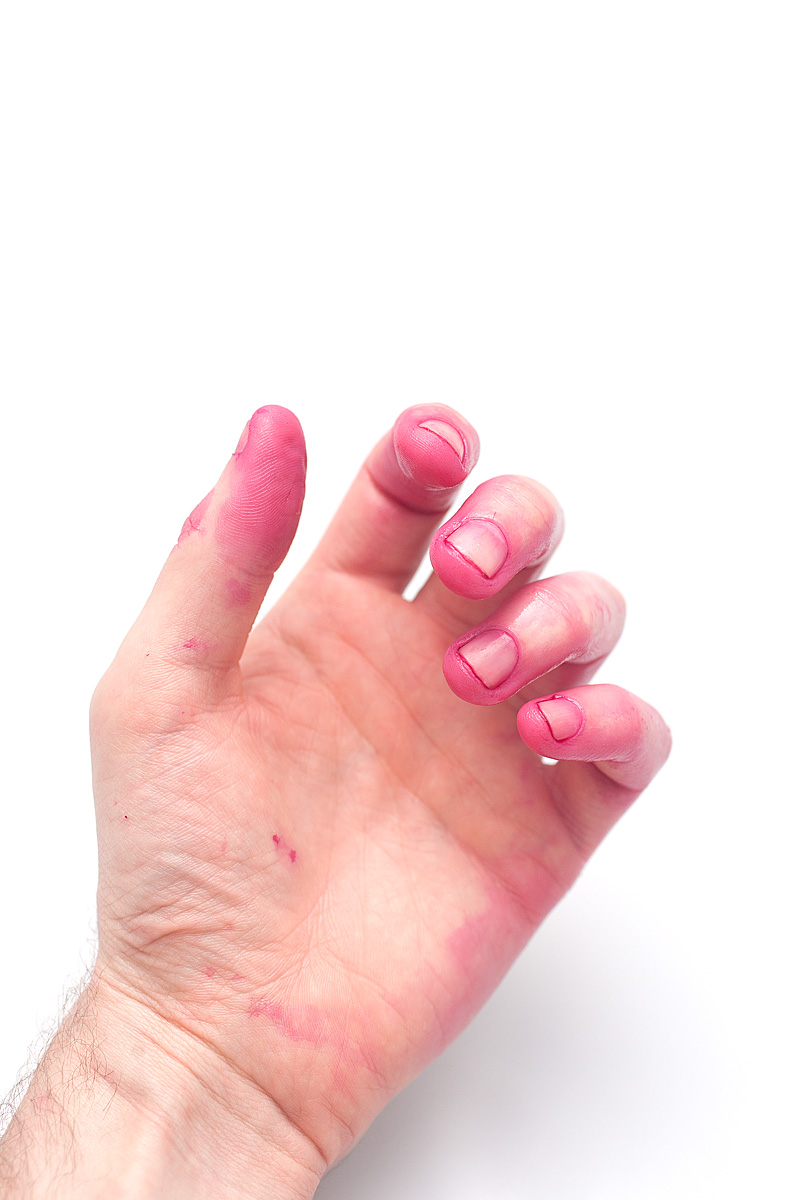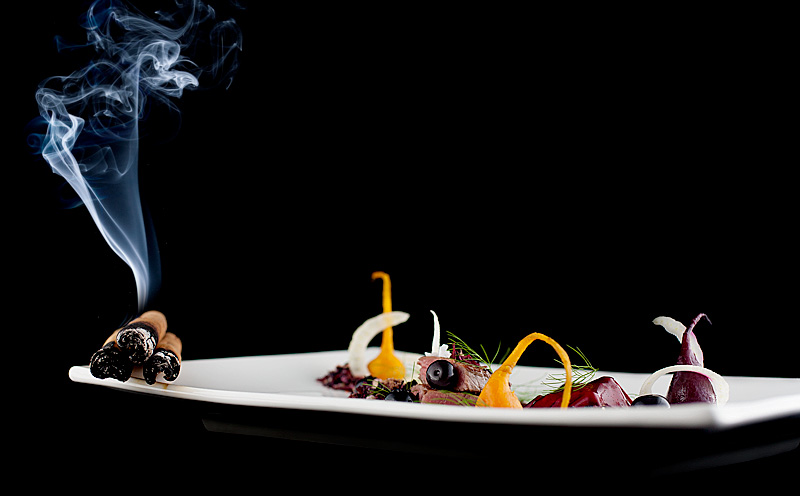 To make beet sheets and beet pudding, I juiced around 10 beets. A side note about this: I recently swapped out my Breville Compact Juice Fountain (a centrifugal juicer that was loud, tended to leak, and generally was a mess and a pain in the ass) to the Hurom Slow Juicer. Sarah and I are of differing opinions about this thing: it results in juice with more pulp than the Juice Fountain did. Sarah and pulp don't get along. She's frustrated by needing to strain her juice after producing it, but admits that the slow juicer is very quiet and extremely tidy. Because I use the tool for these dishes, I'm pretty used to straining everything anyway, so for me this new juicer is great. It's so clean and nonviolent, which is kind of a big deal when you're juicing beets…no red juice flying unexpectedly out of unsealed crevices. It's also no bigger than the Juice Fountain, which was a big motivation for me as I have enough shit in our kitchen as is.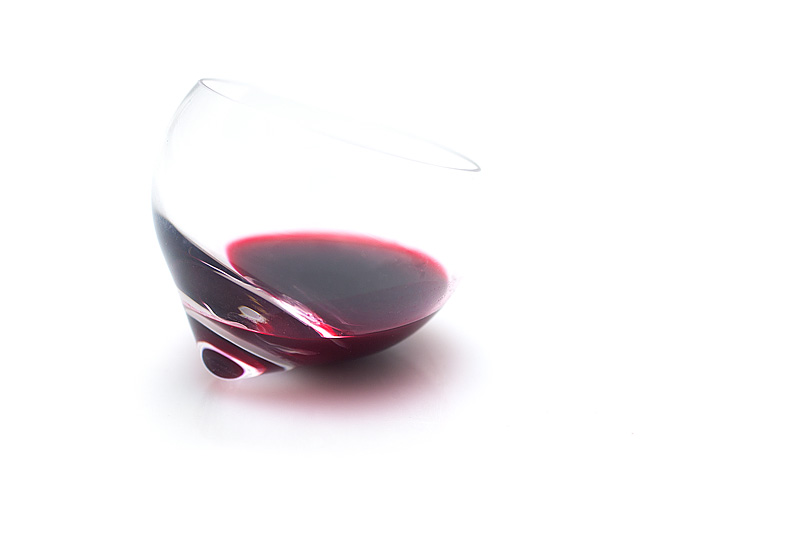 Anyway, I gelled some of the juice with agar and gelatin, then poured this onto a sheet of acetate to form a very thin 'film'. After this had set, I cut rounds from the sheet with a cookie cutter, transferred them (very, very gently…they're super-delicate) to another sheet of acetate, and covered them with more acetate to hold them until service. The sheets are ultimately draped over a spoonful of the corned bison ragout.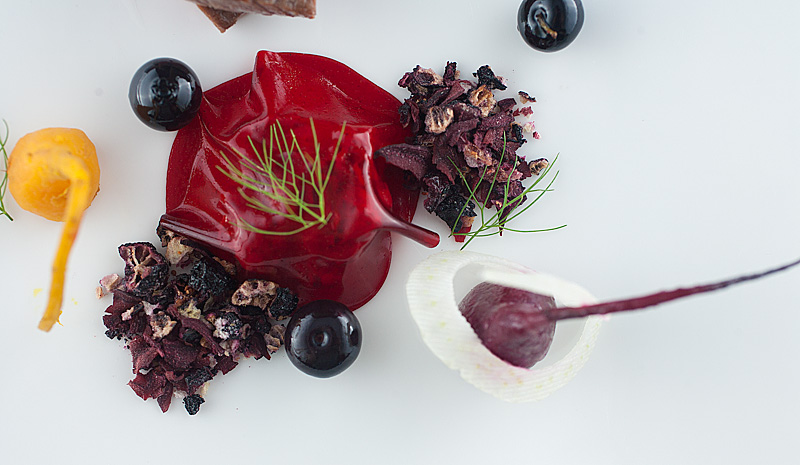 The rest of the juice was mixed with Ultra-Tex and blended to yield a thick pudding. I found I had to add way, way more Ultra-Tex to thicken the liquid than I should have; I think this is an indicator that my stash of it is getting too old.
To make Beet-Blueberry Crumbs, I thinly-sliced another beet, cooked the slices briefly in sugar, salt, water, and a dash of vinegar, then dehydrated them to yield crispy beet chips. These were lightly-crushed with some freeze-dried blueberries.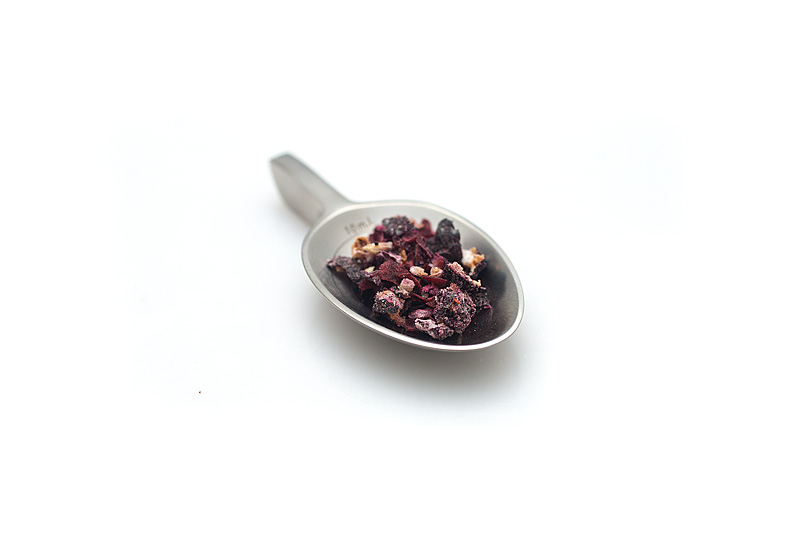 I next got to work on pickling some fresh blueberries; I heated red wine and sugar, added blueberries, then let the mixture cool. The berries went in the fridge, while the remaining blueberry-red wine liquid was reduced to a syrup, then combined with some veal stock to yield a thick, unctuous "blueberry gastrique". This shit is seriously amazing: sweet, earthy, flavorful.
In addition to the Bison shanks, I also ordered some Bison Tenderloin, which I cooked en sous vide to medium-rare before portioning into individual slices.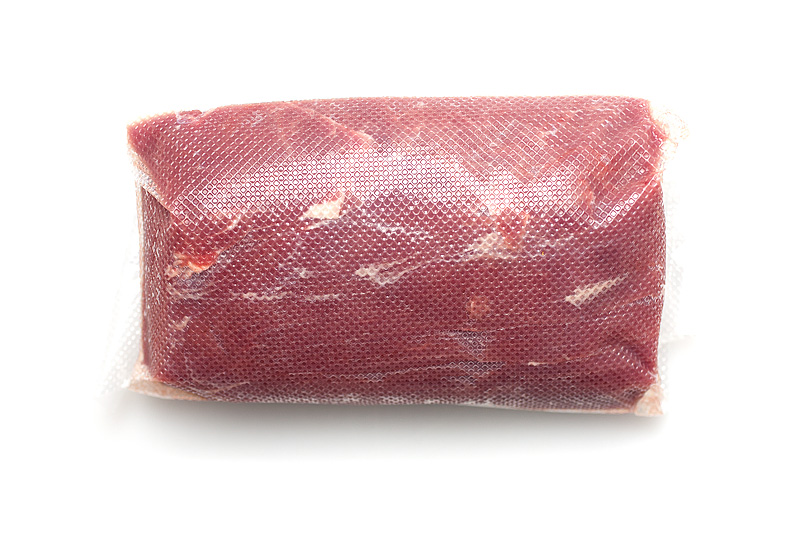 The final component before plating everything was caramelized fennel puree, which I completely forgot to photograph but was one of the most delicious components on the dish. After completing this, I put most components in the over to keep them warm, then got to work on a beverage pairing for the dish…: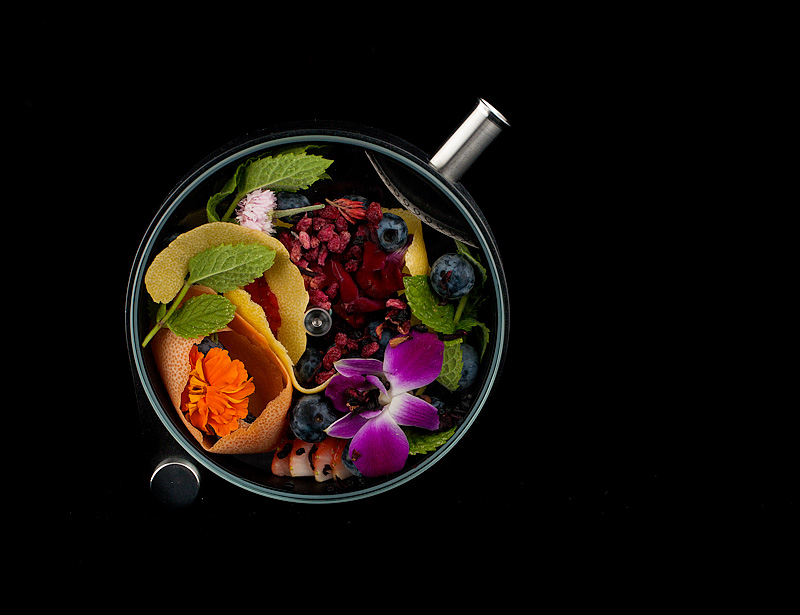 Martin Kastner's "Porthole" service piece was released as a Kickstarter project several months ago, and mine showed up in the mail a few weeks ago. Martin (and the Aviary) provide 4 recipes with the Porthole…one of which features blueberries! Pairing it with this dish seemed like a no-brainer.
The Porthole is first filled with grapefruit and lemon peels, strawberries, freeze-dried pomegranate arils, fresh mint, blueberries, edible flowers, and Rare Tea Celler's Berry Meritage tea. Separately, a cocktail is mixed of bourbon, water, verjus, vermouth, bitters and simple syrup. This is poured into the Porthole and begins infusing. The Porthole shipped with two small sampling glasses; the idea is to taste the cocktail every 5 minutes or so to see how it evolves. Each new serving is drastically different from the previous; the experience starts sweet, caramely, bourbony, then arcs through citrusy, berry-like, then herbal as it takes on the flavors of the flowers. The color also drifts from a light beige to deep red. The whole thing is pretty badass.
So badass, in fact, that it almost trumped the final step of the dish itself….
Cyelon cinnamon rods are ignited just before service and left to smoulder as the dish is eaten, creating a curtain of smoky cinnamon aroma that just accents everything beautifully.
I admit I've never been a big fan of beets; they're just so damn earthy and dirt-y and Dwight Schrutey. But I really loved the flavors here; beets and blueberries together create a third flavor that seems more than the sum of its parts. The bison itself was beautiful: delicately cinnamon-y and salty in the ragout, and tender and juicy as the tenderloin. The gold beets were favorite surprise; they had a buttery note to their flavor and left me wanting to work with them again (rather than the red beets, which I just kinda put up with). Sarah and I noted the flavors here (specifically the cinnamon) makes this dish seem more like an Autumn one than a Spring one, but it was still really tasty nevertheless.