Not really sure how this is going to go, but…let's learn about creating a book.
A thought that occurred to me early in this project was "Man, I sure am taking a lot of photos for this. Maybe someday, if I ever finish it, I can pick my favorites and make a book out of them."
I love printed photography. There's something about seeing a nice, big print of an image that I find really satisfying. I've printed large copies of several photos from the project over the years, hanging them around our apartment or in my office. It's fascinating for me to see the tiny bites of Alinea's dishes in a large format; there's so much room to scrutinize all the little details that get lost in the small images included on this blog.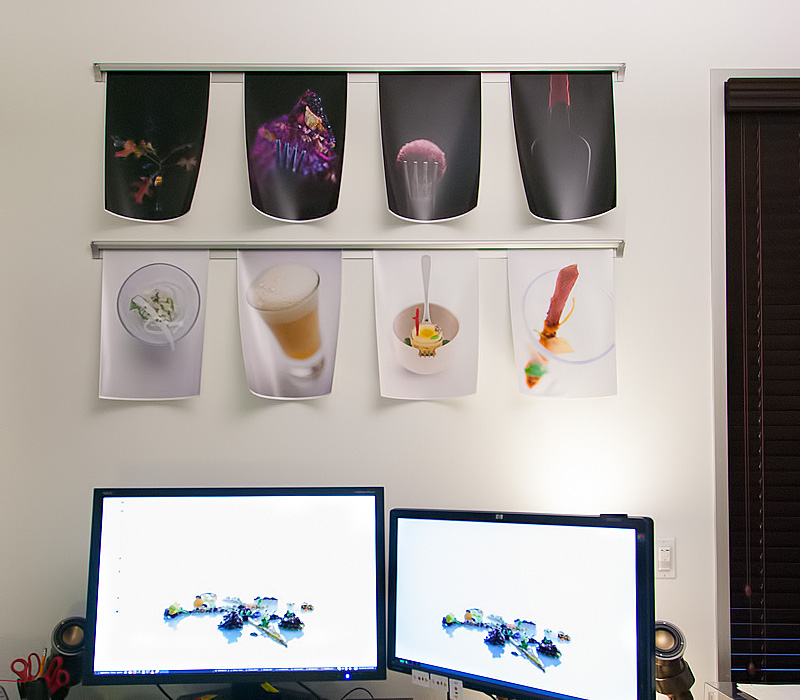 Sarah and I have had a handful of photo books printed for ourselves over the years. The first one I did was a small collection of pictures of my niece taken just after she was born. The book was very simple, containing full-bleed photos on each page with a tiny bit of text scattered throughout.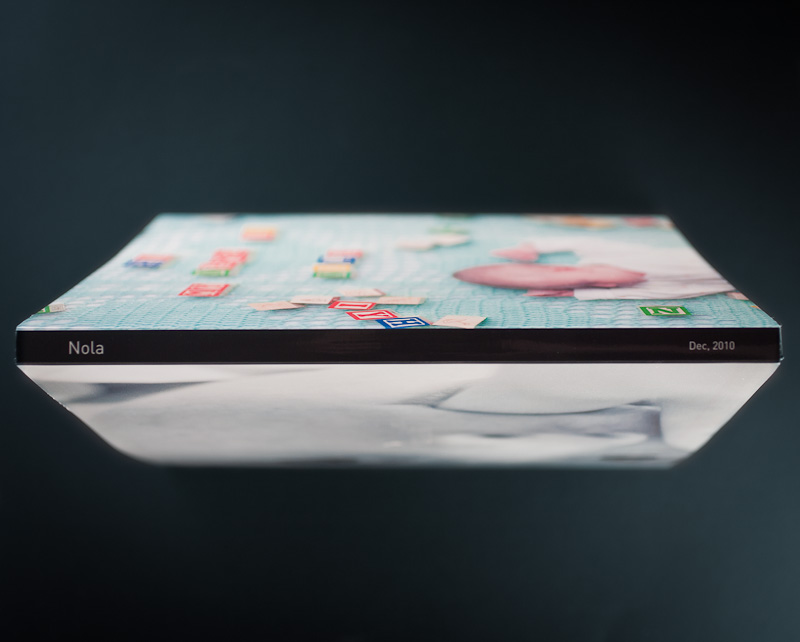 Shortly after this, Sarah undertook a fairly massive project wherein she rescued a large box of decaying photo albums from her family's garage in Kentucky. She scanned and painstakingly-retouched every photo, then designed a new set of hardcover books to archive everything.
In both of these cases, we used an online printing service called Blurb to manufacture the books. Blurb is one of a handful of "print on demand" services (Apple's iPhoto offers a similar service, and there are others). The phrase "print on demand" (POD) refers to the technology used to manufacture the book; it centers around a large printing machine that can print and bind a book all in one go. The upside of POD is that there are minimal setup costs; one can simply submit a digital copy of a book and produce an arbitrarily-small number of hard copies (in both cases above, we printed less than 10 copies of each book). Blurb, Apple and others offer templates to make the digital assembly of the book easy and straightforward.
Drawbacks to services like this include limited flexibility and, in some cases, inferior product quality. Blurb, for example, offers book printing in one of a handful of pre-set sizes; if I want to deviate from one of these options, I'm out of luck. Binding options are limited as well; while Blurb offers the option of soft- or hard-bound covers and the potential inclusion of a dust jacket, fancier techniques like foil stamping, spot-varnishing, or embossing aren't available. Regarding quality: while Sarah and I were reasonably happy with the quality of the Nola books, the Wilson albums–which were quite a bit thicker and heavier–suffered from poor-quality binding. We found too that, although the print quality of the books' contents was adequate, it wasn't particularly awesome. There's no real way to proof colors or finesse things; you get what you get and that's about all you can control.
Late last year, as I realized I was closing in on actually finishing this project, I started to think again about collecting my photos into a book. I found Blurb's limited options less than exciting, and wondered what might be involved in making something a little more special. I've invested so much time in all of this that I thought it'd be cool to make something befitting the overall vibe I've tried to capture with this project. In casting about for ideas, one obvious resource I thought to consult was my collection of cookbooks.
It's probably unsurprising that I've amassed a sizable collection of cookbooks over the past five years; a good number of them tend to be awesome beyond just the recipes they present. In thinking about what I wanted my book to be, I started looking through my favorite cookbooks, trying to figure out what about each of them was so compelling to me.
For starters, I love big, fat cookbooks; ones with a solid heft when I pull them down from the shelf. I love pages printed on heavy paper, thick and not too glossy, with crisp blacks and deeply-saturated images. Some of my favorite books employ interesting design elements or printing techniques, or even different types of paper within the book.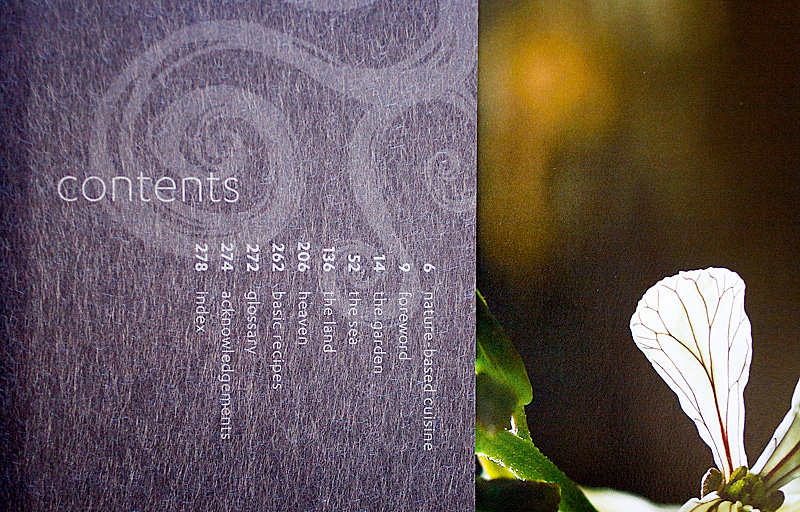 I also love books that have a very tactile quality, both inside and out. This, I think, is poetically-appropriate: food is multi-sensual, so it makes sense that the most awesome cookbooks seek to be this way as well. I particularly love covers with interesting embossing and debossing, or a fine-grain texture that feels fun to touch. I can't take out some of my favorite books without absentmindedly running my hand over the covers, feeling the textural qualities of each. For this reason, I find that I dislike paper dust jackets; they rarely have interesting textural features and seem to always rip or crease. In fact, the first thing I typically do if a book is wrapped in one is remove and discard it.
Blurb and other POD services offer nothing like any of this. I wondered what it would take to create a high-end book, printed to my size specifications at a very high level of quality, and with an interesting, durable, and tactile cover. I consulted the back pages of some of my cookbooks for information about where they're made; most listed author and publisher information, but those were my only clues.
I supposed printing was usually something handled by a publisher. Having a book made through a big publisher seemed like a daunting proposition though; I didn't even really know where to begin, plus I wasn't sure it was the route I wanted to go. Mostly I was just interested in making something for myself; trying to court a publisher for the sake of printing a single book seemed like a really heavy hammer.
Then I remembered something interesting: Modernist Cuisine was self-published by Nathan Myhrvold and his team. They hadn't gone through a large publishing conglomerate, they'd just done it all themselves. This was appealing to me for obvious reasons. I grabbed a volume from Modernist Cuisine, flipping to the back pages of it. Sure enough, there in the colophon was listed the name of a printing house in Seattle that had handled the manufacturing of the MC books.
I emailed the company, describing what I was interested in doing and asking if they could office any advice. A day later, a man named Gary responded, asking me to elaborate. "I've got a bunch of photos that I want to make a book of," I explained, "but I want to be picky about the print quality and cover treatment."
"You've come to the right place," he wrote back. "Blurb is sort of like the McDonald's of book printing. We're more like fine dining."
Gary explained that most cookbooks that had been printed in any sizable amount had most likely been made using "offset printing", a technique by which an image is transferred first to a printing plate, then pressed onto a sheet of paper. The process yields not only a higher-quality final image than that of POD printing, but also very high consistency for multiple prints.
The downside with offset printing is that there is considerably more setup involved; printing plates need to be created, and maximizing print quality potentially involves extensive proofing tests. While the per-book cost of offset printing is much lower than that of POD printing, the prepress costs tend to make the process only economically-viable for larger-scale print runs.To get the kind of quality I was after, then, I would need to do a run of several hundred books.
Gary noted that were I to go the offset route, the sky was the limit as far as cover treatments go. "I've covered books in paper, cloth, leather, even astroturf. If you can think it up," he assured me, "we can probably do it."
As I had been exploring all this, I'd been sharing what I'd learned with Sarah. "I think if you're gonna go this route," she reflected one night, "just making a photo book isn't really enough of an idea. I think this book might deserve some words to go in it too."
"Yeah, but copy-pasting my blog into a book seems sorta like cheating or something," I mused. "Plus, I think it's way too long; it's like five years' worth of text."
"Sure, I didn't mean to do that though," she pressed. "There are a lot of stories or thoughts you've had over the course of doing this that you've never put on the blog. Maybe this is the right place for those. Or it could just be the story of this whole adventure, what it's meant to you, how you've changed…"
I nodded, pondering this idea.
"Plus," she added, "I can help you design it. We can make it look really nice."
I mulled the idea over in my head for several weeks, unsure of how deeply I wanted to get involved with it. Making a really deluxe photo book was an idea that strongly appealed to me, but I wasn't sure about the writing end of things. After some vacillation, I decided the only way I could find out whether I wanted to do this or not was to just try doing it. So one afternoon, curious what (if anything) would spill out of my head, I sat down at my laptop, opened up a blank document, and started writing.
Five months later, I stopped.
Sarah was right; in rereading back through this entire blog, there were a good many stories, discoveries, and thoughts I'd never saw fit to include. It was also interesting to be able to connect dots with the benefit of hindsight that I wasn't able to connect in the moment; even in writing I found myself learning more than I thought I already knew.
As I completed sections of writing, I handed them off to Sarah, who played with typesetting them alongside photos we were choosing from the project. We also spent time learning about assembling the book, poring through paper options and printing techniques to try to identify what would be maximally awesome for this. Together, we've been coming up with something I'm really excited about.
Taking a step back to survey the result, I realized it might be worth asking myself a rather terrifying question: could there be anyone else who would like a copy of such a book?
To try to answer this, I've decided to try using Kickstarter. The idea with Kickstarter is that a person like myself can posit an idea and state how much it will cost them to realize it. Others can volunteer to chip in; often to be offered a "reward" for their donation (usually a product generated by the Kickstarter campaign). In my case, I'm interested in seeing if there's enough interest in this book to be able to do a print run of it. 
It's probably no surprise that the process of doing this is just as fascinating to me as any other aspect of this blog. For those who'd like to participate, I plan to share the process as it unfolds via the Kickstarter campaign. Would you like to come along for the ride?